Yes, couples can book a room in a hostel if they want to stay there. Hostels offer shared or private rooms for solo backpackers and those that travel as a couple. Many hostels have private double rooms set up just for couples and standard shared dorm rooms for those who prefer the cheapest room rate per night.
Do Hostels Cater to Couples?
Hostels have come a long way since their early days, and many now cater to couples. Gone are the days of hostels being only for solo travellers or those backpacking the world. They are an excellent option for couples looking for a more affordable and social experience while travelling or getting away for a weekend escape on a budget.
Hostels often have multiple room types suitable for couples, such as private rooms with either double or bunk beds and an included bathroom. These rooms provide more privacy than sharing a dorm room. Some boutique hostels may even rival hotel equivalents with regard to their private rooms at a much more affordable price point.
As a couple, the hostels also still offer communal kitchens, including breakfasts, and, depending on the hostel, a bar that you can use during your stay. This can be a plus for couples who want a more laid-back and casual experience than a hotel stay.
And not forgetting the events and activities some hostels organise that couples can join in on, such as walking tours, pub crawls, and cultural events. Hostels are always adding new options to help you enjoy your time there.
The quality of hostels can vary significantly between locations, so it's essential to take the time to research the different options available when choosing a hostel for your stay. Be sure to read reviews from other travellers on Hostelworld and other booking sites to understand what to expect from a particular hostel, especially if you want to book a private room.
Benefits of Staying in a Hostel as a Couple
Staying at hostels as a couple can be a great experience, especially if you are looking for an affordable holiday. There are several advantages to staying in a hostel, making it an ideal choice for couples.
The first is cost savings. Hostels are typically much cheaper than hotels or other accommodations, which makes them an excellent choice for couples on a budget.
Another benefit of staying in a hostel as a couple is an opportunity to meet new people and socialise with others from different backgrounds. Many hostels have common areas, such as a lounge or kitchen, where travellers can hang out and interact with each other.
This can be a great way to make new friends and learn about different destinations, as travellers are always eager to share stories, advice, and experiences.
As a couple, you often get caught up in each other when staying in a hotel. Adding the social aspect of the hostel life to meet other people can help enrich your trip as you interact with others staying at the hostel.
Considerations When Choosing a Hostel For Couples
Before you book a hostel for your couple's trip, there are a few essential considerations to keep in mind. The hostel's proximity and area of interest are important, but you should never forget about neighbourhood safety.
Hostels can be located in safe and unsafe areas, so it's important to research and read reviews before booking. The best hostels are usually situated in safe locations, so aim to book a well-rated hostel and arrive at a hostel during the daytime to get familiar with the area before it's dark.
The next thing to factor in should be the price. You'll need a place to stay every night of your trip, and if you're on a budget, the cost will likely be one of the most significant factors in choosing a hostel.
Prices vary widely between hostels, so it's essential to shop around. Additionally, some hostels offer discounts if you book for multiple nights or during certain times of the year. So plan your trip well in advance to score the best nightly rate.
Finally, it's important to consider the type of accommodation you prefer. Hostels vary immensely in quality, cleanliness, and amenities, just like any other stay. There are some beautiful hostels and some less stellar ones. There are even 5 star hostels and boutique options that I've stayed in that you'd never think were a hostel at all.
Just remember, hostels aren't hotels, so don't expect all the value adds a hotel offers on a hostel budget.
You'll also want to decide if you want to be able to sleep together as a couple or bunk down in shared rooms with others.
Can Couples Share A Bed In A Hostel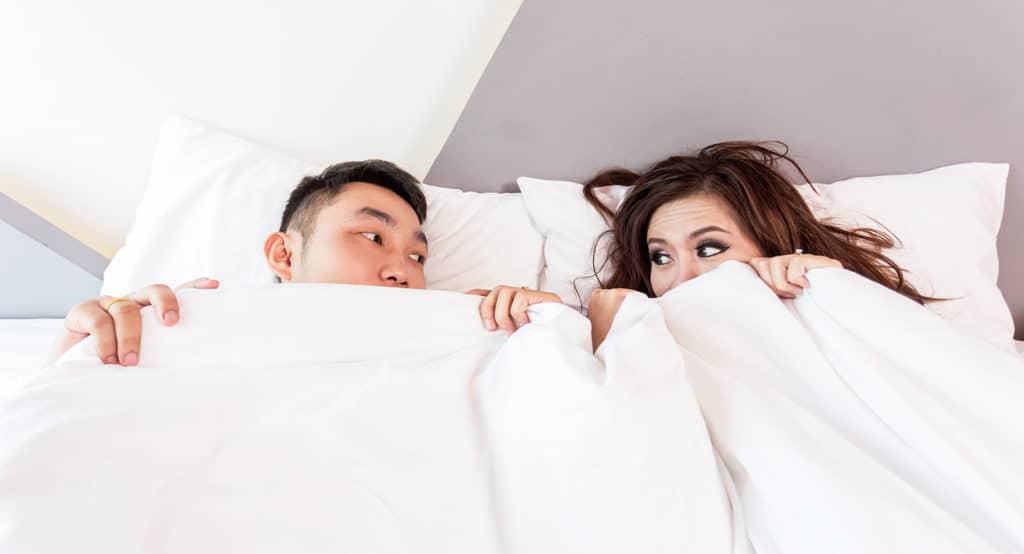 Sharing a bed in a hostel can be a great way to enjoy quality time with your partner. However, it is important to remember that hostels come in many different sizes and shapes. Some may offer private rooms with two beds, while others may only have bunk beds or larger dorm rooms.
You should also keep in mind if you're planning to have sex while staying in a hostel that, it's better to book a private room than a dorm room. Firstly for your privacy and secondly so your roommates don't have to hear you getting busy under the sheets in the bed next to them.
Nobody, and I repeat, nobody wants to hear the bed shaking or your awkward sex noises at 3 am while they try to sleep. The hostel room is sacred when it comes to bedtime.
Pros and Cons of Staying in Private Rooms at Hostels for Couples
Staying in a private room at a hostel can be an excellent option for couples looking for budget accommodation while retaining their privacy. It offers more privacy than a shared dorm, so you can feel more relaxed and comfortable.
On the other hand, it will also be a bit more expensive than a shared dorm, so weighing the pros and cons before you book is crucial.
One of the main advantages of booking a private room is that you have your own space and can do what you want without worrying about disturbing or being disturbed by others. You'll also usually have access to your bathroom, which is best for those that like convenience and privacy.
The downside, staying in a private room at a hostel will be pricier than sharing a dorm, as you're paying for the extra privacy. You also won't get to experience the social atmosphere of the hostel as much, as you're not living with others as closely.
However, it could be a great option if you want to experience staying in a hostel for the first time but don't want to share with strangers. Or, as mentioned above, you plan to do more than just sleep in your hotel bed at night.
Travel Tips for Living Comfortably in Shared Dorms as a Couple
When choosing a hostel dorm, couples should consider the size of the room and the number of beds. It is best to opt for a smaller dorm room with 4 to 6 beds, as this will provide more space for you to move about and have some privacy.
Other important tips for a comfortable stay in a shared dorm include reserving the top and bottom bunk of the same bed if you can when booking. This way, couples can sleep next to each other without worrying about other roommates separating them.
Additionally, couples should remember that you're sharing the room with other people and be mindful of their belongings and romantic moments. This means not leaving any personal items lying about.
Making Friends with Other Guests at the Hostel
Making friends with fellow travellers is a great way to enhance your stay in a hostel and make the most of the social side of being in a hostel. Here are a few tips to help you start conversations and make friends.
First, be open and friendly. When you first arrive at the hostel, don't be afraid to introduce yourself and make small talk with others. Even if you're asking about where to find the best cafe in town or want help to explore the city, it's a great way to start a conversation.
Based on my experience, other travellers love sharing their tips and advice. Once you get them started, it can open up the room for others to join in.
Second, take advantage of organized events. Many hostels will arrange events such as movie nights, shared meals, and pub crawls, which are great opportunities to meet other travellers.
Finally, don't be afraid to join in conversations already in progress. This may seem intimidating initially, but if you see a group of people chatting and you have something to contribute, don't hesitate to chime in. You may find yourself in a lively conversation in no time. The social aspect of staying at a hostel is my favourite part of the whole experience.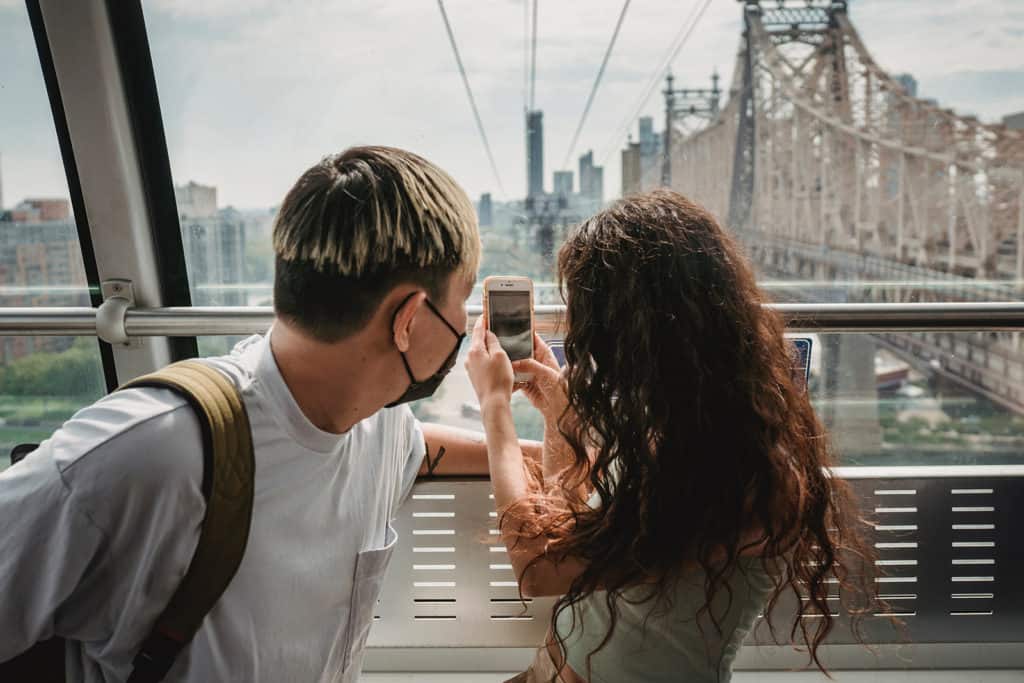 Safety Tips For Staying in a Hostel With Your Partner
Staying in a hostel with your partner can be a great way to save money and explore the world together. However, taking the necessary precautions to ensure your safety and security during your stay is important. Here are some tips for staying safe:
• Always keep your valuables locked away in the provided lockers or safes.
• If you're staying in a dorm, lock the door at night.
• Be aware of your surroundings and never leave your bags unattended.
• Keep your passport and any other vital documents on you at all times or locked away in a safe place.
• Never leave your room or dorm unlocked when you're not there.
• Familiarize yourself with the hostel's policies and procedures in case of emergencies.
By taking the necessary precautions, you can rest assured that you and your partner will have a safe and enjoyable stay in the hostel.