Planning a weekend getaway or something a bit longer and can't decide between staying in a hotel and staying at a hostel for your accommodation? With so many options available, it's not easy to choose the best accommodation for your needs. To help you decide, we've compiled a list of the pros and cons of both hotels and hostels so that you can make an informed decision before booking your next trip away.
Comparing Hostels And Hotels
Hostels are usually much cheaper than hotels, but they also offer a very different atmosphere. Hotels are typically more luxurious and offer a variety of amenities, while hostels tend to be less formal and more social. In this post, I am to explore the differences between the two in terms of price, space, amenities, clientele, convenience, location, accessibility, social atmosphere, privacy, and safety. 
Overview Of Hostels And Hotels
Hostels and hotels are both popular forms of accommodation for travellers. Hostels offer shared dorms or bedrooms where you might share a room with six or more people along with private rooms in addition to communal areas like a kitchen, common rooms, and potentially an onsite bar.
Hotels, on the other hand, only provide individual rooms with private bathrooms and amenities. Both have their advantages and disadvantages, which will be discussed further in this post.
The price point is one of the biggest deciding factors when it comes to choosing between a hostel or hotel. Hostels tend to be much cheaper, while hotels can be more expensive. Additionally, the size of the room is another factor. Hostels offer smaller spaces that you share with others, while hotels typically provide larger rooms. Amenities also differ between hostels and hotels. Hostels often have fewer amenities than hotels, such as TVs or mini-fridges.
The clientele at both can vary depending on the location and time of year, though generally, hostels draw a younger crowd than hotels. Finally, the location and convenience of each will also play a role in your decision. Hostels are typically closer to key attractions, and hotels offer more convenience with their 24-hour reception desks and done-for-you-type services.
Pros And Cons Of Hostels
One of the biggest advantages if you choose to stay in a hostel is the cost savings. They are typically much cheaper than hotels and offer a more affordable way to travel, especially for younger solo travellers. Hostels also tend to be more social, encouraging interaction with other guests. Hostels also offer a great way for travellers to meet people, make new friends and explore a destination together.
Hostels often have shared spaces such as kitchens or lounges, which can be great places to hang out, relax and cook meals with others. On the downside, hostels don't provide the same level of privacy that hotels do since you are sharing a hostel room with six or more people at a time and using a communal bathroom as well.
You can also book a private hostel room if you prefer to combine the social aspect of staying in a hostel with a bit more privacy. A private room in a hostel will be more expensive, but for couples or solo travellers that like their own space can be a great way to get the best of both options.
And lastly, some hostels may not have the same standards of cleanliness as hotels, so it's important to do your research before booking.
Pros And Cons Of Hotels
Hotels offer a higher level of comfort and luxury than hostels, with spacious rooms, en-suite bathrooms and a range of amenities, such as swimming pools, gyms and other onsite services. The clientele of a hotel is often more affluent, with an emphasis on couples and families predominately.
Hotels are typically located in more convenient areas and are easily accessible by public transport or car. Furthermore, hotel rooms offer more privacy than hostels, allowing hotel guests to relax in their own space. However, this increased level of comfort comes at a higher cost, making hotels less accessible for budget travellers. Hotels also lack the social atmosphere that hostels are renowned for.
Price Difference Between Hostels And Hotels
There is a significant difference between hostels and hotels when you are discussing price. On average, a bed in a hostel dorm costs 40-50% less than a hotel room of the same size. For those on a tight budget, hostels are a perfect choice as they offer an affordable way to travel.
Hotels are typically more expensive, but the extra cost often includes more amenities and privacy. Depending on the country and city you're visiting, you may find prices vary widely between hostels and hotels. It's always important to do your research beforehand so you can make the best decision for your budget and accommodation needs.
A possible in-between price option would be to book into a Boutique Hostel that offers a similar feel to a hotel but with the added benefit of a more social hostel feel. These can often be better than a hotel if you are a younger traveller.
Space In Hostels vs Hotels
When it comes to space, hostels and hotels have very different offerings. Hotels typically offer larger and more private spaces, while hostels often offer smaller, shared dorm rooms.
Hotels typically have larger rooms with more features, while hostels may only have beds with shared amenities. The number of beds in a room can vary depending on the type of hostel or hotel, but typically hotels will offer more space than hostels.
Every hotel is different, but many also offer extra luxuries such as balconies or terraces, while hostels are often limited to beds and shared bathrooms. The amount of space available will depend on the type of accommodation you choose, but both hostels and hotels provide a variety of options for travellers to choose between.
Amenities At Hostels And Hotels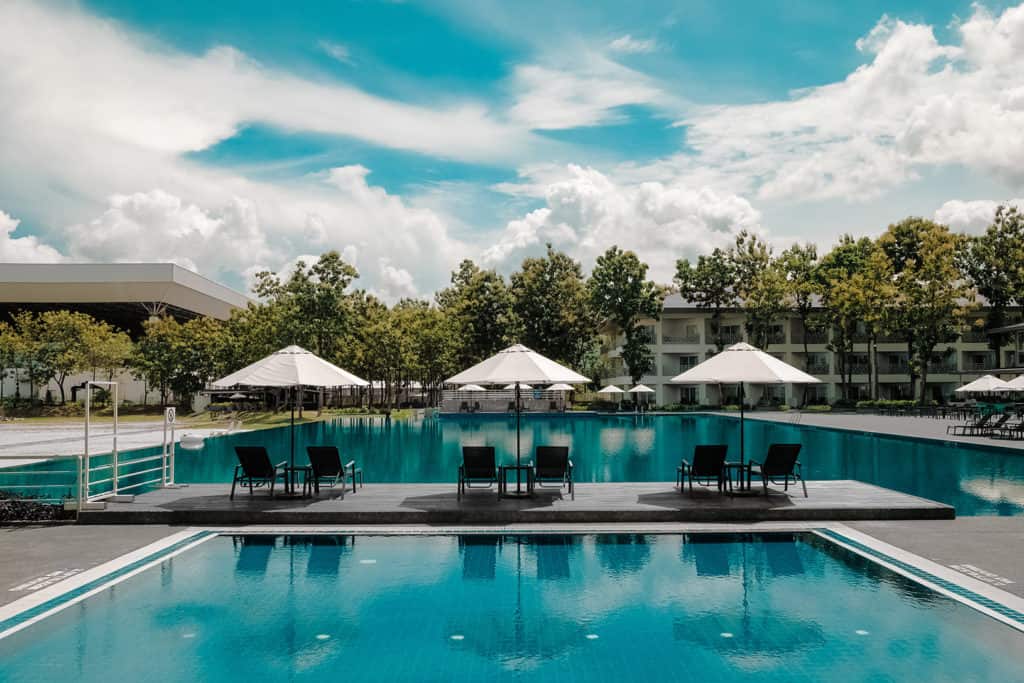 When it comes to amenities, hotels and hostels offer various types of services. Hotels are known for their luxurious amenities, such as swimming pools, spas, restaurants, and bars. They also provide room services, concierge services and laundry services.
On the other hand, hostels usually have basic amenities such as a kitchen, lounge or common area, laundry machines, and some have an in-house bar.
While hotels are generally more luxurious than hostels in terms of amenities, they come at a higher price. Depending on the time of year you travel and how long you intend to stay, extra amenities may be welcome or not at all required.
The Clientele of Hostels and Hotels
Hostels and hotels serve very different types of clientele. Hostels are typically the go-to choice for young backpackers and travellers on a budget who are looking for a more social travel experience. Especially those that are looking to party as there are many party hostels well suited to those looking to have a good time while travelling. Only stay in a party hostel if you want to get into the social side of hostel life in a big way.
While hotels are preferred by business travellers, couples, families and those who can afford the extra cost and want to have more space or time to themselves.
Staying in hostels will have more opportunities to meet people from different backgrounds and cultures, as these accommodations attract a wide range of budget travellers. Hotels, on the other hand, provide more privacy and luxury if you'd rather keep to yourself while travelling.
Hostel And Hotel Convenience
Convenience is a major factor to consider when deciding between a hostel and a hotel. When it comes to payment, hotels and hostels typically accept a wide range of payment methods, including credit cards, and both are easily booked and paid for online. However, hostels tend to require full payment upfront, whereas, in hotels, you can usually pay for it at the end of your stay.
Hotels are also typically found in more centralized locations that have easy access via public transport. Hostels are often more affordable, providing travellers with a cost-effective option for lodging, but they can be scattered around a city and be a bit harder to find while carrying your luggage with you.
In terms of accessibility, some hostels lack elevators or ramps and may not be suitable for people with reduced mobility. Depending on the type of hostel you stay in, you may need to bring your toiletries and towels, which can be inconvenient if you have limited luggage space. Hotels naturally inclined all of these as standard in your stay.
Location Of Hostels Vs Hotels
When it comes to location, both hostels and hotels have their advantages. Hostels offer a unique opportunity to stay in the heart of a city or surrounded by local eateries and things to do, all while costing just a fraction of the price of a hotel.
Hotels, on the other hand, can sometimes be located in more remote areas and provide more space and facilities than hostels. Hotels are also more likely to offer transportation services to nearby attractions and other points of interest. Ultimately, the ideal location will depend on your travel preferences and budget.
Accessibility At Hostels And Hostels
When it comes to accessibility, hostels have a distinct advantage over hotels. Hostels are typically located in the heart of city centres, making them easy to access for both locals and travellers alike. They also tend to be situated close to public transport links, making them even more convenient for those who don't want the hassle of having to drive or take a taxi.
Hotels, on the other hand, can sometimes be located further outside of the city centre and may not be as easily accessible. But as mentioned above, hotels are far more prepared for those who require extra assistance or are wheelchair users. Hotels always have lifts, whereas hostels are almost always reliant on stairs and often situated in older unique buildings making them less accessible to those with mobility needs.
Social Side Of Hostels Vs Hotels
Hostels are known for their social atmosphere, as they are often filled with other travellers all looking to have fun, party and enjoy their time away. This can be a great opportunity to make new friends, discover new cultures, and find someone to join you on your next adventure.
Hotels, on the other hand, offer more privacy and less opportunity for social interaction.
Both offer different experiences when it comes to socializing, so it's important to consider which one best fits your needs.
Privacy In Hostels And Hotels
Hotels offer the most privacy as they come with individual rooms. In a hostel, the privacy arrangements may vary greatly depending on the type of room you choose. Private rooms offer more privacy at a cost, while hostel dorms have less.
If you are looking for more privacy when booking accommodation, then a hotel is the better option, as hostels usually have common spaces and shared bathrooms that may not be suitable for those who prefer more seclusion. However, some hostels offer private rooms with ensuites and other amenities that can make them just as private as a hotel.
Safety Differences Between A Hostel And A Hotel
Both hostels and hotels offer a variety of measures to keep you safe. Hotels usually have security guards on duty, surveillance cameras and electronic key cards for rooms. Hostels, on the other hand, may have fewer strict measures in place and less advanced security.
However, many hostels have hostel staff at a reception desk where guests can check in and out and ask questions. Additionally, hostels provide lockers to store valuables in the common area or each guest's dorm room. Ultimately, the level of safety you experience will depend on the specific accommodation you choose and its location. Do your research before booking to ensure you feel secure in your chosen destination.
Hostels Vs Hotels, The Final Verdict
The final verdict on hostels vs hotels is that they both offer unique advantages and disadvantages, depending on a traveller's needs and preferences.
Hostels are almost always cheaper than hotels and offer more communal spaces and interaction between travellers. Making them an ideal choice if you are holidaying alone or like to socialise and be closer to the action. The atmosphere of a hostel is something I've loved the most, lots of people all around you with similar goals towards travel. It's why I prefer staying in hostels when I can.
Hotels offer more privacy, amenities, space, and convenience. These are perfect features if going away on a romantic getaway or if you like the luxury of having a room to yourself. The older I've gotten, the more staying in a hotel appeals to me. Especially a luxury hotel with a comfy bed.
Ultimately, the decision comes down to personal preference and budget. It's important to research both options thoroughly to find the best fit for your next trip or vacation. Just be sure to do your due diligence online and read reviews before you book a hotel or hostel.