Staying in a hostel for the first time can be exciting yet daunting. Hostels are an affordable accommodation option that allow travelers and backpackers alike to meet new people from all around the world. However, it's understandable to feel nervous about sharing a room with strangers and being unsure about the right hostel etiquette if it's your first time in a hostel.
When you're staying in a hostel for the first time, it's a good idea to research beforehand. Look for hostels with good reviews and amenities that are important to you. It's also important to understand the different types of rooms available, such as dorm rooms or private rooms, and choose the one that best fits your needs and budget. Additionally, familiarize yourself with the hostel's policies and rules to ensure a smooth and enjoyable stay. With hostels, knowing what to expect is important to avoid unnecessary worry or concern. You want the best hostel experience if it's your first time staying in one.
Understanding Hostels
When traveling on a budget, a stay in a hostel is a great option for many travelers to enjoy cheaper accommodations and make a whole lot of friends at the same time. Hostels offer a unique experience that can't be found in hotels or resorts. And while they do cater to a younger audience predominately, anybody can stay in hostels. No matter if you are travelling with a family or if your age is pushing closer to 40 than it is 20.
Types of Hostels
There are many different types of hostels available, and every hostel offers its services in its own unique way. Some hostels are designed for large groups or just a large volume of travellers, while others cater to small groups, solo travelers, families and those looking to party.
Hostels are located not just in the city centres but also in more remote suburbs or areas, which can greatly impact their costs and how you get to and from them. The further from the city center the cheaper a hostel usually is as you need to travel further to see the sights.
Boutique hostels are popular with travelers who want a more luxurious experience. They are almost always centrally located in larger cities and offer a hostel feel with hotel-like amenities.
Staying at a party hostel can be a lot of fun. Party hostels target the younger demographic and are about a fun time and little sleep. Don't book to stay in one of these without a more outgoing personality and a plan to party.
Chain hostels cater to the masses with a good mix of everything. These are great starting point hostels to stay in. They are usually better set up and offer more updated amenities and services.
Independant hostels cover the bulk of what is left. These might be family-run little gems full of charm and atmosphere, Lovely little hidden secrets you never want to leave or real dumps you wouldn't wish anybody to stay in.
Hostel Facilities
Hostels offer a range of facilities that can vary depending on the hostel's location, room cost and type. Most hostels have shared kitchens, laundry facilities, free wifi and common areas where travelers can meet and socialize. Some hostels also offer free breakfast, bike rentals, and tour bookings.
Always check the facilities the hostel offers before booking to ensure that they meet your needs. Some hostels may not have 24-hour reception, and others may not offer luggage storage.
Ideally, you want to stay in a hostel that offers free wifi, a kitchen for cooking meals, good communal areas, laundry facilities and keeps their rooms and bathroom areas clean. Anything else is a bonus.
Room Types in Hostels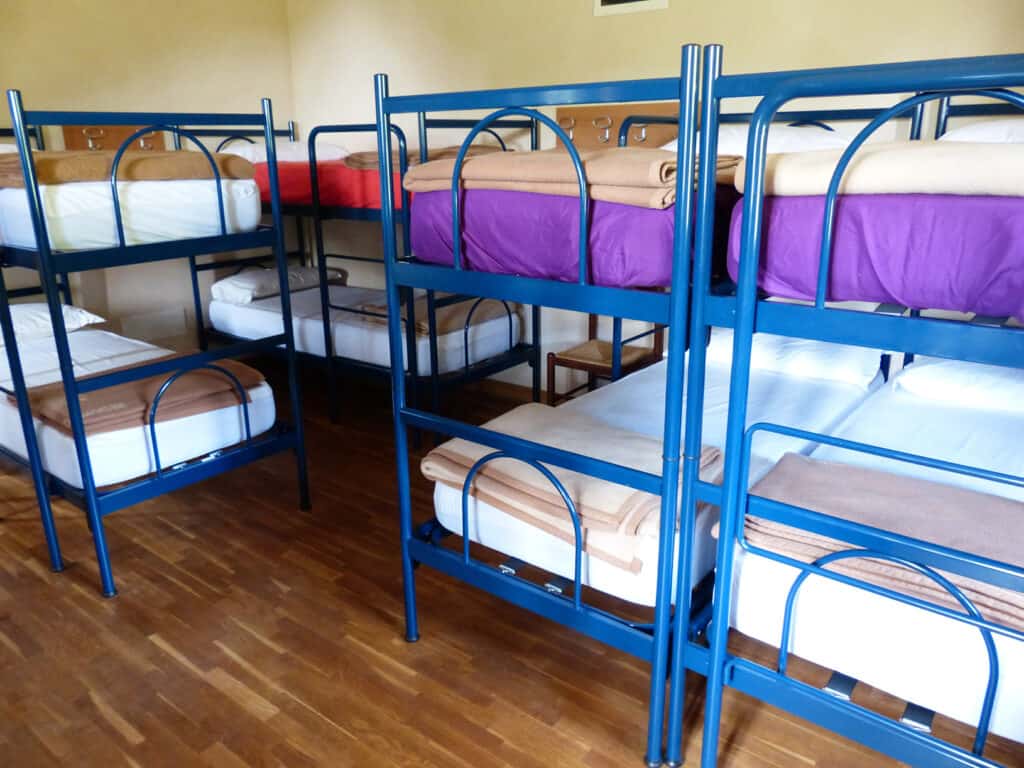 Hostels offer a range of room types, including dorm rooms and private rooms. Dorm rooms are the most affordable option and are ideal for solo travelers or groups. These rooms typically have bunk beds and shared bathrooms, often down the hall. But some can have a small bathroom in their room.
Private rooms are more expensive but offer more privacy and comfort. These rooms can be booked for one or more people and come with an en-suite bathroom.
Dorm rooms can be mixed-gender or single-sex rooms. These rooms will range from a 4-person room to something like 30+ people in a single room. It's also very common to see female-only dorm rooms for those of you uncomfortable sharing a mixed dorm. From my experience, people are always very respectful of each other in mixed dorm rooms, should you have concerns about those.
Always check the available room types before booking hostels to ensure you get the right accommodation for your needs. And don't be afraid to ask to swap rooms once at the hostel if you find your allocated room isn't for you.
Planning Your Stay
When planning your first hostel stay, there are a few things to consider to ensure you have a great experience. Choosing the right hostel and booking your stay are the two most important.
Choosing the Right Hostel
When choosing a hostel, there are a few factors to consider. First, the location. If you're traveling to a specific city, look for a hostel that's centrally located or close to public transportation. This will make it easier to explore the area and get around. The more you travel, the more comfortable you will be with traversing a city. But for your first stay in a hostel, try to be close to all the attractions and sights you want to see.
Next, consider the price. Hostels are often a more affordable option than hotels, but prices can still vary a great deal, especially during peak travel season. Look for hostels that fit your budget and offer the amenities you need, such as free Wi-Fi or breakfast.
Reviews can also be helpful when choosing a hostel. Check websites like Booking.com and HostelWorld for reviews from other travelers. Pay attention to comments about cleanliness, noise levels, and staff friendliness. Sorting the comments by date can help you determine if any problems are recent or historical.
Booking Your Hostel
Once you've chosen a hostel, it's time to book your stay. Many hostels offer online booking through their website or third-party websites like Booking.com and HostelWorld. When booking, be sure to read the terms and conditions carefully.
Some hostels require a deposit or full payment upfront, while others allow you to pay upon arrival. It's important to know the cancellation policy in case your plans change too.
When booking, specify any special requests, such as a private room or a lower bunk bed. Hostels often have a variety of room options available. And while they cannot always honour them, it never hurts to ask in advance.
If you're traveling to a popular destination, booking your hostel well in advance is a good idea to ensure availability. In peak travel seasons, hostels can fill up quickly, and last-minute bookings often cost much more.
Take the time to plan your hostel stay so you end up with a comfortable and enjoyable experience.
Preparing for Your Hostel Stay
When preparing for a hostel stay, there are a few things to ensure you do well to have a comfortable and safe experience. And they are packing appropriately and being aware of the safety precautions you should take.
Packing for a Hostel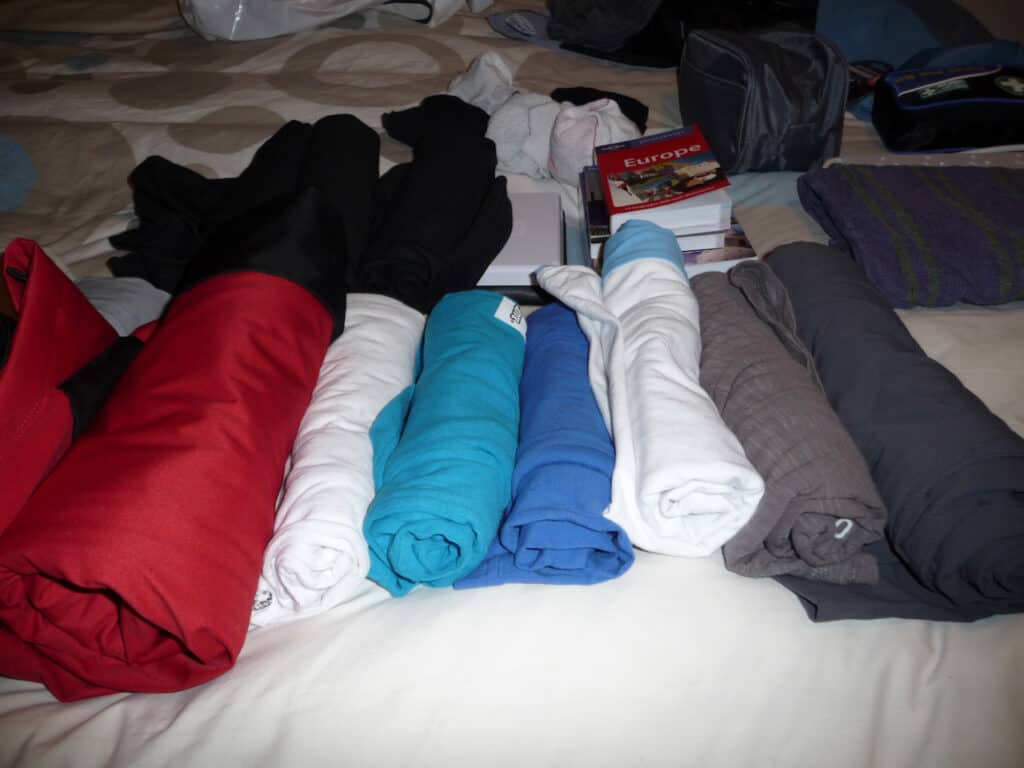 When packing for a hostel stay, it is important to factor in that space is often limited and that you must carry everything you bring. It is recommended to pack light and bring only the essentials. Here are a few items to consider packing:
Towel: Many hostels provide towels, or you can hire them. But bringing your own is always a good idea, just in case. A lightweight quick dry towel is best.
Padlock: Most hostels have lockers, but you must bring a padlock to secure your belongings.
Flip flops: Hostel showers are often shared, so it's a good idea to bring flip-flops to wear in the shower. These can double for footwear on hot days out exploring.
Earplugs and eye mask: Hostel dorms can be noisy and bright, so earplugs and an eye mask can help you get a good night's sleep if you are worried about staying awake at night.
Power Adapter: Travelling abroad means the plug on your laptop or phone charger won't fit in the wall socket. Bring an adapter to help keep your technology charged up.
Journal: Amongst all the fun and excitement, it's a good idea to write down your thoughts or snippets of what you did each day to look back on. You'll have photos and memories, but I still enjoy reading over notes from my time staying in a hostel in each city I visited.
Hostel Safety Precautions
While hostels are generally safe, taking a few precautions is important to ensure a secure stay. Here are a few hostel safety tips to keep in mind:
Use lockers: Most hostels have lockers available for hostel guests to use. Use them to secure your belongings when you're out exploring.
Keep valuables with you: While lockers are a great way to secure your belongings, keep valuables with you at all times, like your passport.
Be aware of your surroundings: When exploring the city, be aware of where you are and avoid walking alone at night.
Don't share personal information: While making friends in hostels is great, it's important to be cautious about sharing too much personal information with strangers till you get to know them better.
Living in a Hostel
Hostel life is worlds away from your at-home life, making it a unique enjoyable experience. Hostels offer a budget-friendly way to travel and meet new people from all over the world. However, it's important to know hostel etiquette and how to use shared facilities to ensure a comfortable stay. What you might do at home isn't what you might do in the hostel.
Hostel Etiquette
When staying in a hostel, it's important to be respectful of others. Keep noise levels down, especially during quiet hours. If you're coming back late at night, try to be as quiet as possible when entering your dorm room. Don't rustle through plastic bags looking for things.
It's also important to keep your belongings organized and tidy. Use the lockers provided to store your valuables and keep your bed area clean and free of clutter.
If you share a dorm room with others, try to be mindful of their privacy. Don't turn on the lights or make noise if someone is sleeping. And don't spread your belongs out across the bed of someone else.
Assume your grandmother is watching over you, and be polite, friendly and helpful.
Using Shared Facilities
Most hostels have shared facilities, such as bathrooms and kitchens. When using these facilities, it's important to be considerate of everyone else. Keep the bathroom clean and tidy, and don't take too long in the shower. Bring your shower gel and toiletries, as the hostel does not always provide these.
Clean up in the hostel kitchen and label your food if necessary. Don't use too much space in the fridge or leave dirty dishes in the sink for others to clean up.
Making the Most of Your Hostel Experience
Staying in a hostel can be an exciting and enriching experience, especially for first-time travelers. You'll have the best time, so enjoy your hostel stay. Therefore, taking advantage of the hostel's social opportunities and events is important. This is the best time to get to know other backpackers or travelers in the hostel and share hostel tips, travel tips and get to know your roommates.
Socializing and Making Friends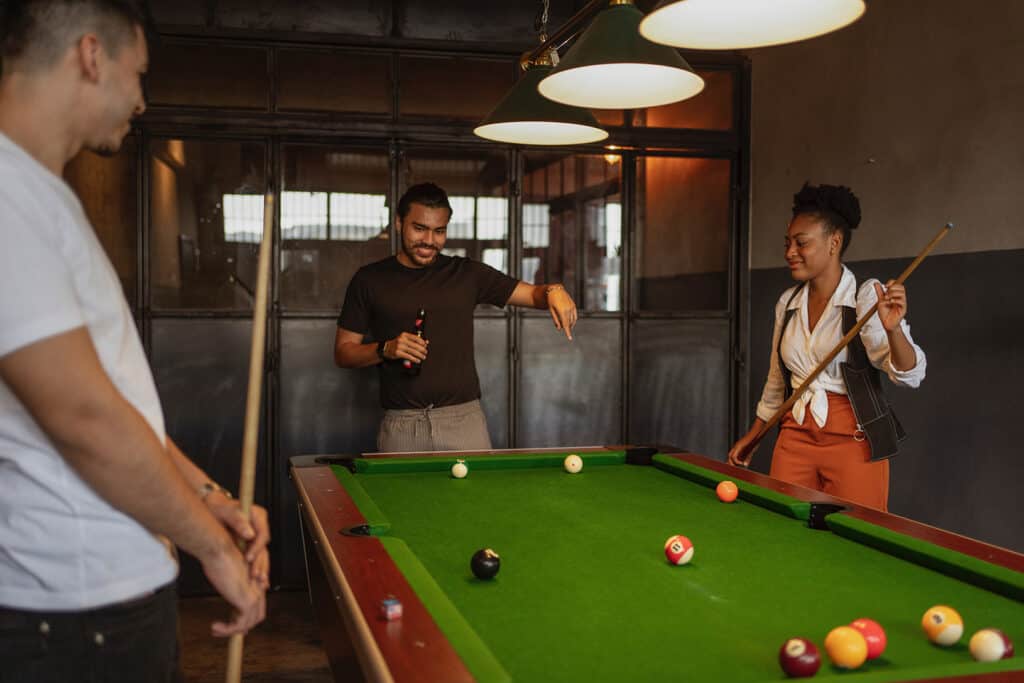 One of the best things about staying in a hostel is meeting like-minded travelers. Hostels attract a wide range of people, from backpackers to groups of friends or families, and everyone is usually open to making new connections. You become instant best friends overnight with these people. It's weird to think that but trust me, it happens every time.
To meet new people, hang out in the hostel's common areas, such as the lounge, kitchen or hostel bar if it has one. Strike up a conversation with someone who looks friendly or ask someone if they want to join you for a meal or activity. If you're feeling shy, look for organized events or activities the hostel offers, such as pub crawls or city tours.
Just be sure to respect others' space and privacy, and always ask before joining a group or activity not officially organised. Also, remember that not everyone staying in a hostel is looking to socialize, so don't take it personally if someone declines your invitation.
Participating in Hostel Events
Many hostels organize events and activities for their guests, such as movie nights, game tournaments, walking tours, pub crawls or group meals. These events are a great way to get to know others and create lasting memories of your travels.
Check with the hostel staff or look for flyers or posters to discover events during your stay. Some hostels even organize parties or pub nights, so if you're looking for a lively atmosphere, look for a hostel known for its party scene.
Participating in hostel events can also help you to feel more connected to the hostel community and make your stay more memorable. You might even discover a new hobby or interest by trying something new. Or, for those of you who are single, perhaps you'll find your future lifelong partner.
Frequently Asked Questions
What are some tips for staying in a hostel?
Pack light and bring what you need. You can always buy an extra jacket if it's cold.
Keep valuables with you or in a secure locker.
Respect other guests' privacy and space at all times.
Be mindful of the noise level, especially at night. No plastic bags, EVER.
Take advantage of common areas to meet other travelers.
Is it safe to stay in a hostel alone or as a solo traveller?
Yes, it can be very safe to stay in a hostel alone. However, taking precautions and being aware of your surroundings is always important. Choose a reputable hostel with good reviews, keep your belongings secure, and be cautious when meeting new people.
What should I know before staying in a hostel?
Before staying in a hostel, it is important to research the hostel and read reviews from previous guests. Hostels typically offer shared dormitory-style rooms with bunk beds, communal bathrooms, and shared common areas. Bring a lock for your locker and pack light. You don't need as much as you think you do. Hostels are a great way to meet other travelers and save money on accommodations.
How do I prepare myself for staying in a hostel?
To prepare for staying in a hostel, be open to meeting new people and experiences. Everyone is there to see the world and enjoy their trip so smile, be kind and enjoy it.
What are the check-in and check-out procedures for hostels?
Check-in and check-out procedures vary by hostel. Typically, check-in is in the afternoon, and check-out is in the morning.
Do Hostels require an ID?
Yes, hostels will require a form of identification upon check-in, which is usually your passport that they'll scan.