Hostel chains in Europe have grown increasingly larger and more popular among budget-conscious travelers. These chains offer affordable accommodation options in some of the most popular cities across Europe, which makes them definitely worth looking at for your backpacking trip around Europe.
One of the most well-known hostel chains in Europe is St. Christopher's Inn. They operate in some of the liveliest cities on the continent, including London, Paris, Berlin, and Amsterdam. Each hostel is attached to a Belushi's bar or pub, providing guests with a convenient place to grab a drink or bite to eat without leaving the hostel. St. Christopher's Inn is known for its central locations, making it easy for guests to explore the city on foot or by public transportation.
Another popular hostel chain in Europe is Generator Hostels. With locations throughout Europe, Generator Hostels offers affordable and stylish accommodation options. Their hostels have great bars and restaurants, clean showers, comfortable beds, laundry services, and competitive rates. They were the one hostel I had always heard about years ago as I planned my first backpacking trip to Europe.
Together these hostel chains operate some of the best hostels in Europe and cover all types of accommodation preferences. Be that a party hostel vibe or a more quiet and comfortable hostel. No matter your style, they all offer great options for any traveler.
Top Hostel Chains in Europe
When it comes to budget travel, hostels tend to be a popular choice for backpackers and budget-conscious travelers. In Europe, many hostel chains offer affordable accommodations with comfortable beds, clean facilities, fun activities and a friendly atmosphere. Despite the trend for the 2023 summer season, where it's clear prices are on the up as we recover from the covid pandemic. Hostels are still a great social and backpacker-friendly option to stay in.
1. Generator Hostels
Generator Hostels in Europe offer a unique and upscale boutique hostel experience. With locations in popular cities such as Amsterdam, Berlin, Dublin, London, Paris, Stockholm and Rome, these hostels are centrally located, allowing easy access to the city's attractions. Each Generator hostel provides a range of amenities, including high-end private rooms and designer dorms. The stylish common areas, like lounges and bar areas, create a welcoming and social atmosphere for guests.

One of the highlights of staying at a Generator hostel is the carefully curated events that bring people together. While not classified as a party hostel chain, Generator does host awesome launch and weekend parties at selected locations. These events offer an opportunity to mingle with fellow travelers and locals.

The hostels cater to different types of travelers, including solo travelers, couples, and groups. Female-only dorm rooms are available, and many private rooms have deluxe features. However, due to their prime locations and boutique design, the prices at Generator Hostels can be higher than budget options in the area.
Pros:
Well-known hostel chain, so always popular.
A lively and fun community spirit, making it easy to meet and interact with fellow travelers.
Centrally located in major European cities.
Each hostel has an onsite bar, cafe/restaurant, chill-out areas, and a variety of room types.
Cons:
No communal kitchen to cook your meals.
Big popular hostels so can be busy and noisy.
Some guests have reported staff rude and not helpful.
2. Meininger Hostels
MEININGER Hostels is a popular hostel chain and offers various services catering to travelers. With locations in cities including Hamburg, Berlin, Brussels, Cologne, Copenhagen, Vienna, Venice and Munich, MEININGER Hostels provide affordable and modern accommodations for various trips, such as city breaks, business trips, backpackers, family holidays, or school class trips. Their central locations make exploring the top cities in Europe convenient for guests.

MEININGER Hostels bring together the best elements of a hostel and hotel, providing a comfortable and welcoming atmosphere for all guests. Travelers can enjoy modern rooms at affordable rates, complete with amenities like free WiFi, 24-hour reception, and guest kitchens with washing machines and dryers. The game zone adds a fun touch to the stay, especially popular with backpackers.
Pros:
Option for a late check-out (for an additional fee).
Combination of hotel and hostel amenities.
Good location near metro and tram stops, as well as walking distance to the city center.
Cons:
Mixed reviews about the wifi connection (although it seems to have improved in some areas).
Breakfast may be a little steeply priced.
Some reviews mentioned that the hostel's design may not be as convincing as other options.
3. A&O Hostels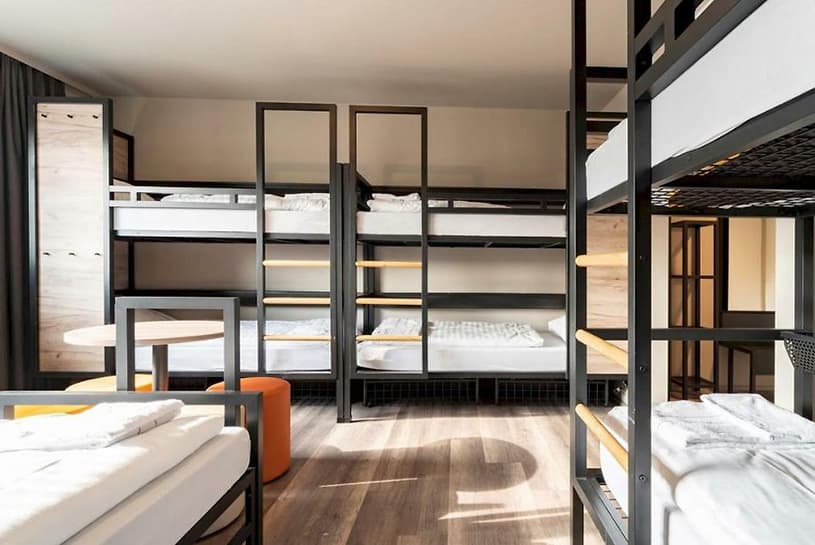 A&O Hostels is one of the largest European hostel chain, offering affordable accommodation in prime locations across the continent. They cater to backpackers, families, and groups traveling on a budget.
They can be found in popular destinations such as Amsterdam, Berlin, Prague, Venice, and more. The prices vary depending on the season and location, but they strive to keep their accommodation affordable.
A&O hostels are known for their innovative combination of hotel and hostel, providing guests with a variety of room options suitable for every price range. Their facilities vary from place to place but generally include a 24-hour bar, free Wi-Fi, a luggage compartment, laundry services, and a guest kitchen. Some hostels offer additional amenities such as TV rooms, workspaces for digital nomads, and kids' rooms.
A&O hostels are an excellent choice for travelers seeking affordable accommodation away from the bustling atmosphere of party hostels. They are centrally located in Europe's major cities, making it convenient for guests to explore attractions and landmarks.
Pros:
Hotel like accommodation for hostel prices.
Usually well-located hostels.
A good opinion for families or group bookings.
Cons:
Charges for sheets.
Not great for solo travelers looking to meet others.
Some guests reported staff can be rude or unhelpful.
4. St Christopher's Inns
St Christopher's Inns is a renowned association that manages youth hostels in Europe. Their main objective is to provide high-quality accommodations in the hosteling industry. With locations across Europe, such as London, Paris, Berlin, Amsterdam, Barcelona, Vienna, Bruges, Copenhagen, Edinburgh, Bath, and Newquay, St Christopher's Inns ensures their hostels are centrally located, offering easy access to public transport and local attractions. In London alone, they operate in several areas, including Shepherds Bush, Hammersmith, Camden, Greenwich, Liverpool Street, and London Bridge.
They also have two hostels in London Bridge, The Village and The Inn. In addition to their hostels, St Christopher's Inns also boasts traditional British pubs attached to each location, providing great value for money on food and drinks. The association is a proud member of Europe's Famous Hostels, an alliance of top-quality hostels in European cities.
Pros:
Typically located in central areas of major European cities, making it easy to explore and access popular attractions.
These hostels attract young backpackers, creating a vibrant and social environment.
Many hostels have on-site bars and restaurants.
Cons:
Very social hostels, so expect noise late at night.
No communal kitchen for cooking.
It can be very busy hostels, so book in advance to get a room.
5. Safestay Hostels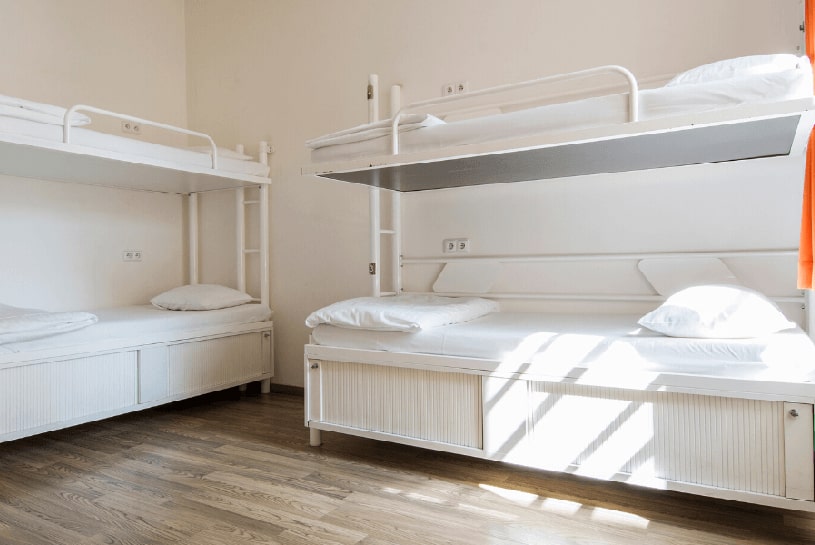 Safestay Hostels in Europe offer stylish, safe, affordable accommodations in some of the best city locations. Safestay provides a unique and energetic atmosphere for travelers. By staying at a Safestay hostel, travelers can save money on accommodation and spend it on other experiences like night outs and souvenirs.
The hostels are strategically located in tourist-friendly areas, giving guests easy access to the city's best bars, restaurants, and attractions. Moreover, the staff at Safestay hostels are knowledgeable about the city and can provide valuable travel tips, information on tourist sites, and recommendations for hidden quirky locations.
The hostels also offer various facilities to enhance the guest experience, such as communal areas, bars, spacious shared rooms, and common areas with board games and computer rooms. Additionally, Safestay hostels organize special events like Rock Nights, where guests can meet new people and enjoy great music and drinks.
Pros:
Affordable prices compared to hotels.
Opportunity to meet and connect with like-minded travelers from around the world.
Prime locations in popular areas for sightseeing and socializing.
Cons:
Some guests have complained about the cleanliness.
There may not be a common-use kitchen in all hostels.
Staff was not always as helpful or friendly across all their hostels.
6. Wombats Hostels
Wombat's Hostels is a popular hostel chain with properties in various European cities such as Vienna, London, Munich, and Budapest. The hostel chain prides itself on its cleanliness and has won multiple times the Hostelworld.com HOSCAR Award for the Cleanest Hostel Worldwide. Each hostel features a famous WomBar where guests can socialize, play games, and enjoy discounted drinks during Happy Hour.
The rooms in all the hostels are spacious and bright, with modern decor and en suite facilities. Wombats Hostels provide 24-hour reception, and the staff are enthusiastic locals and travelers who are knowledgeable about the area. Guests can always rely on a stable WiFi connection and access their rooms and lockers with a key card. The hostels also offer breakfast buffets, fully equipped guest kitchens, and self-service laundry facilities.
Wombats Hostels aim to create an affordable and friendly accommodation where travelers can come together to share stories and experiences. Solo travelers, backpackers, and even couples can enjoy their stay at Wombats Hostels, and some locations even offer female-only dorms. With reasonable prices and great amenities, Wombats Hostels is a fantastic choice for those looking to explore some of the best destinations in Europe.
Pros:
Strategically located in major cities across Europe, close to transport and central to the city.
Reasonably well-priced rooms.
Social vibe for solo travellers.
Cons:
Given the locations, it can be noisy from outside street noises.
Some guests have complained about poor or spotty wifi reception.
It can be popular with groups.
7. Clink Hostels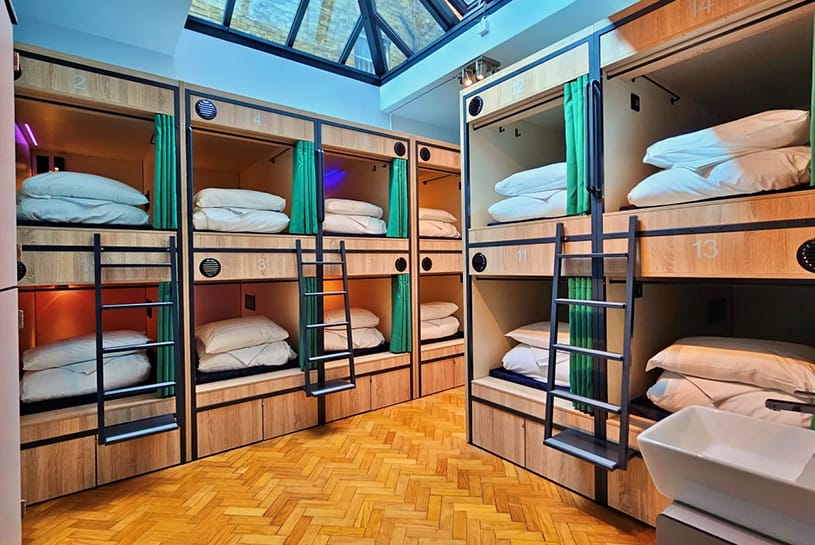 Clink Hostels in Europe offer a unique and creative travel experience for city explorers in prime central locations such as London, Dublin and Amsterdam. The hostels aim to create a real social hub for international travelers.

One of the key features of Clink Hostels is the focus on community and belonging. Upon opening their first hostel in London, they prioritised creating a space where like-minded travelers could share their stories and ideas. This sense of community is at the heart of all Clink Hostels, providing a warm and welcoming experience for backpackers worldwide.

The hostels themselves are unique and full of character. For example, the London hostel, located in an old courthouse in Kings Cross, has preserved the rich history of the building while adding its own unique touches. The old cells have been transformed into cozy beds and a fantastic bar named in honor of 'The Clash'.

In addition to the social atmosphere, Clink Hostels offer a range of services and amenities to cater to the needs of their guests. These include self-catering kitchens, laundry facilities, and discounts on local tours and tickets.
The hostels also offer a variety of room options, including female-only dorms, mixed dorms, doubles, twins, and family rooms. This makes them suitable for solo travelers, families, couples, and small groups.
Pros:
Good locations and unique themed hostels.
Onsite bar and social atmosphere.
Comfortable beds.
Cons:
Rooms can be cramped.
Guests have complained about the cleanliness of the bathrooms.
Rooms are hot during the summer months.
8. Plus Hostels
Plus Hostels in Europe offer travelers much more than just accommodation. They provide many facilities to ensure that guests have an enjoyable and comfortable stay. These facilities include swimming pools, ping pong tables, terraces, and indoor areas suitable for work. Whether you are backpacking, traveling with your family, or on a business trip, Plus Hostels cater to the unique needs of every traveler. They aim to make guests feel at home everywhere they go, creating a sense of community and shared experiences.

Regarding accommodations, Plus Hotels in Europe prioritize providing guests with a private and spacious sleeping area. Unlike larger hotel chains, they aim to offer a more intimate and personalized experience. They also provide various communal areas for guests to connect with fellow travelers and enjoy their stay.
These areas include outdoor terraces, bars, pools, restaurants, and saunas. The hostels adapt to fit the cultures and cities they are located in, offering guests a unique and culturally relevant experience.

Whether you are exploring Florence or Prague, Plus Hostels have unique offerings tailored to each location.
Pros:
It has a dedicated quiet time at night for those wanting a good night's sleep.
Offers far more services than your average hostel, like a pool and gym.
Late checkout is offered (for a fee)
Cons:
Not all locations offer a communal kitchen.
Expensive.
Does not provide tours or pub crawls for those looking for more social outings.
9. Onefam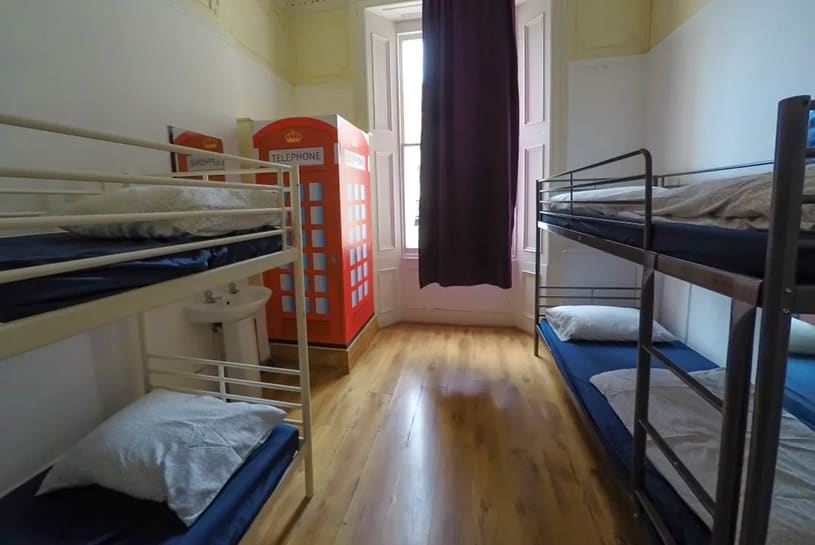 Onefam (formerly Hostel One) in Europe offers a range of services and amenities that cater to the needs of budget travelers, with locations in various cities such as Barcelona, Madrid, Prague, London and Perto. 
The hostel focuses on creating a social environment, making it easy for guests to meet new people. Guests can expect a vibrant atmosphere where they can make friends, participate in pub crawls and beer pong, and even have a free dinner each night.
The hostel experience at Onefam is exhilarating, busy, fascinating, and fun. It is where like-minded travelers share their experiences and create lasting memories. Whether you are a solo traveler or traveling with friends, 
Pros:
Hostels are highly rated across Europe. With the Notting Hill location is regularly listed as a top hostel.
Fully equipped communal kitchens are offered.
Great for solo travelers.
Cons:
Rooms can be a bit small and cramped.
Not suited for families.
Some guests have rated the cleanliness a bit poor.
10. Oasis Backpackers Hostels
Oasis Backpackers Hostels in Europe offer a range of services to cater to the varying needs of travelers. Firstly, they provide comfortable and affordable accommodation options, ensuring guests have a pleasant stay during their visit. From dormitory-style rooms for budget-conscious backpackers to private rooms for those seeking more privacy, they have a variety of room types to choose from.

One of the standout services at Oasis Backpackers Hostels is their vibrant social atmosphere. With communal spaces and facilities such as lounges, bars, and game rooms, guests can meet and connect with fellow travelers worldwide. This creates a lively and friendly environment where guests can share their experiences and travel tips, and even plan future adventures together.
Pros:
Party hostel vibes.
Offers free walking tours, bar crawls and in-house dining experiences.
Sevilla Hostel has a rooftop bar and patio. This was particularly popular when I stayed here due to the heat in summer.
Cons:
It can be popular with stag party bookings.
Other backpackers have said the hostels are not the cleanest.
Often noisy at night.
10. Combo Hostels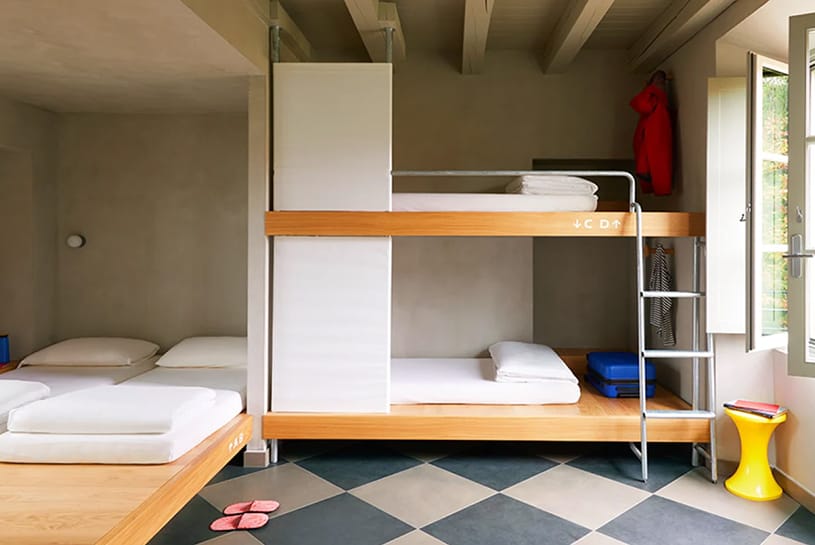 Combo Hostels in Europe offer a unique experience that combines the atmosphere of a hostel with a local arts scene and culture. With properties in Italy, including Milan, Venice, Bologna, and Turin, these award-winning hostels are known for organizing numerous events where locals and travelers can mingle. The hostels provide various amenities such as 24/7 reception, self-check-in, air conditioning, and long-stay options.
Each hostel has its personality, with little unique details that match the specific location. The hostels attract a broad audience, from solo travelers and couples to families and groups. While they may not cater to extreme budget travelers, Combo Hostels offer excellent value for those with a bigger budget that are happy to spend more on an exceptional hostel experience. Prices vary depending on the location.
Pros:
More like a hotel than a hostel.
Onsite restaurants.
Offers workshops and special art residences.
Cons:
Expensive and not suited for budget travelers.
Some staff are not overly friendly.
Not as well set up for meeting other travelers.
11. TOC Hostels
TOC Hostels in Europe offer various services to ensure guests a comfortable and unforgettable stay. With beautifully designed accommodations, guests can choose from private rooms or comfy beds in shared rooms.
The hostels provide a range of amenities such as 24/7 reception, security cameras, and safes in all rooms and dorms. Free Wi-Fi, a bar and restaurant, a kitchen, a main living room, and a playroom are also available for guests.
Some TOC Hostels also boast a pool, where guests can relax, make new friends, and enjoy tapas and tasty mojitos. The communal kitchen is fully equipped and open for guests, and a full continental breakfast is served daily for a fee.
TOC Hostels are conveniently located in prime areas, allowing easy access to attractions and public transportation. With a friendly and helpful staff that offers a free walking tour and a range of hotel-like features in their private rooms, TOC Hostels provide a modern and trendy atmosphere while staying rooted in the tradition of hostels.
Pros:
Fingerprint keys for extra security.
Barcelona hostel has an onsite pool.
Free walking tours are offered at all hostels.
Cons:
More expensive than other hostels.
Some guests reported spotty wifi in their rooms.
Rooms are hot in summer.
12. The People Hostel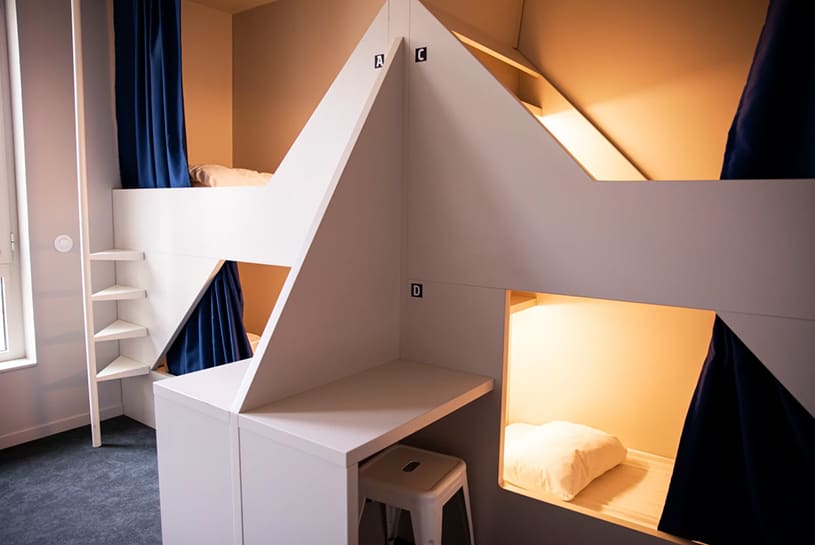 The People Hostel offers friendly and accessible accommodation in the most beautiful cities throughout France and Europe. They have revamped the youth hostel experience by creating a space where cultures can mingle, and locals can meet travelers worldwide. They believe in providing spaces for living and sharing, with concerts, exhibits, workshops, and artist residencies among the many activities offered. The hostels also promote sustainable actions and collaborate with local businesses and associations.
The goal is to create neighbourhood community spaces with dedicated areas for local activities, including concerts, exhibits, workshops, and meet-ups. The hostels also have bars and restaurants that serve local food specialities, providing a cozy atmosphere for guests. Additionally, The People Hostel prioritizes comfort, with specially designed private rooms and shared dormitories that ensure relaxation and convenience for all guests. The hostels are present in several cities in France and Europe, offering a unique and enjoyable accommodation experience.
The People Hostels aim to provide a hybrid between youth hostels and boutique hotels, focusing on creating community spaces and offering various services and living spaces.
Pros:
Great for all types of travelers be it backpackers or families with children.
Staff are well-rated by guests.
Clean and modern.
Cons:
Lacks a good social atmosphere.
Not all hostels are close to the main city attractions or transport.
It can be expensive.
Factors to Consider When Choosing a Hostel Chain Hostel
Staying in hostel chains across Europe offers a multitude of benefits for travelers. Hostel chains often provide a range of activities, from trivia nights to walking tours, that add to the overall experience. These activities not only provide entertainment but also create opportunities to make new friends from around the world. These hostels also create a sense of belonging to entice you to book their other properties as you plan your trip around Europe.

Furthermore, hostel chains are becoming more diverse in terms of their offerings compared to stand alone vendors. While there are still larger dormitories with multiple bunk beds, many hostels now provide smaller rooms, including singles and doubles, and rooms exclusively for female guests. This allows for more privacy and a better shower-to-bed ratio.

Another advantage of staying in hostel chains is their flexibility and inclusivity. Hostels are not just for young backpackers anymore. People of all ages, including seniors and families, are embracing the hostel experience. This creates a diverse and welcoming atmosphere where individuals can connect with people from different backgrounds and ages.

Overall, European hostel chains provide comfortable and affordable accommodations and a unique social experience. With a wide range of activities and facilities, these hostels are a great option for travelers looking to make the most of their trip while meeting new people worldwide. Plus, with the added convenience of communal kitchens and access to Wi-Fi, staying in hostel chains is a practical choice for those who want to stay within their budget without sacrificing comfort.
Tips for Booking Hostels in Europe
When booking a hostel in Europe, there are a few things to remember to ensure a smooth and enjoyable experience. Here are some tips to consider:
1. Book Directly from the Hostel's Website
Booking directly from the hostel's website, where possible. It is often the best way to get the most accurate information about the hostel and its amenities. It can also help you avoid any additional fees that may be added when booking through third-party websites. Also, some hostels offer special promotions or discounts for booking through their website.
2. Check for Discounts and Promotions
Before booking, it's always a good idea to check for any discounts or promotions that may be available. Many hostels offer discounts for students, members of certain organizations, or for booking multiple nights. Some hostel chains also offer loyalty programs that can provide additional benefits and discounts.
3. Consider the Time of the Year
The time of year can greatly impact the availability and price of hostel rooms. During peak travel seasons like summer, hostels may be more expensive and have limited availability. Planning and booking early is important to ensure the best selection and prices.
4. Read Reviews and Ratings
Reading reviews and ratings from other travelers can provide valuable insight into the quality of the hostel and its amenities. It's important to read various reviews to understand the hostel better and see how they perform over the year. Keep in mind that some reviews may be biased or exaggerated and can change quickly, so it's important to use your judgment when making a decision.