Traveling can be expensive, especially if you are eyeing a summer backpacking trip within Europe, a continent full of history and adventure but also one of ever-growing costs. Europe has always been a mecca for backpackers, an abundance of countries so close together offering a never-ending list of experiences. What's not to love?
But Europe has become expensive. Hostels now cost double what they once did just a few years ago. Flights in and out of the continent have skyrocketed, and that's not even looking at the cost of food, travel between cities and general sightseeing and fun.
On my first-ever trip to Europe from Australia, I wanted to see as many countries in Europe as I could. But I wanted to find the cheapest way to get around from one country to the next. That meant months of planning to find the cheapest flight to Europe, splitting my time between Eastern Europe and Western Europe, and taking the bus and train to some destinations instead of a direct flight.
It took time initially to plan the trip, but it allowed me to see Europe with much less stress and worry once I arrived.
Now more than ever, if you're looking to travel, you need to plan to find the cheapest way to get around Europe so you don't blow your budget once you arrive.
Fortunately, numerous ways exist to get around and experience what Europe offers without breaking the bank.
The key to travel Europe on the cheap lies in the following:
Leverage cost-effective means of transportation
Savvy accommodation selection
Embracing the local food scene instead of expensive tourist traps
Being flexible with your travel plans
Bus Travel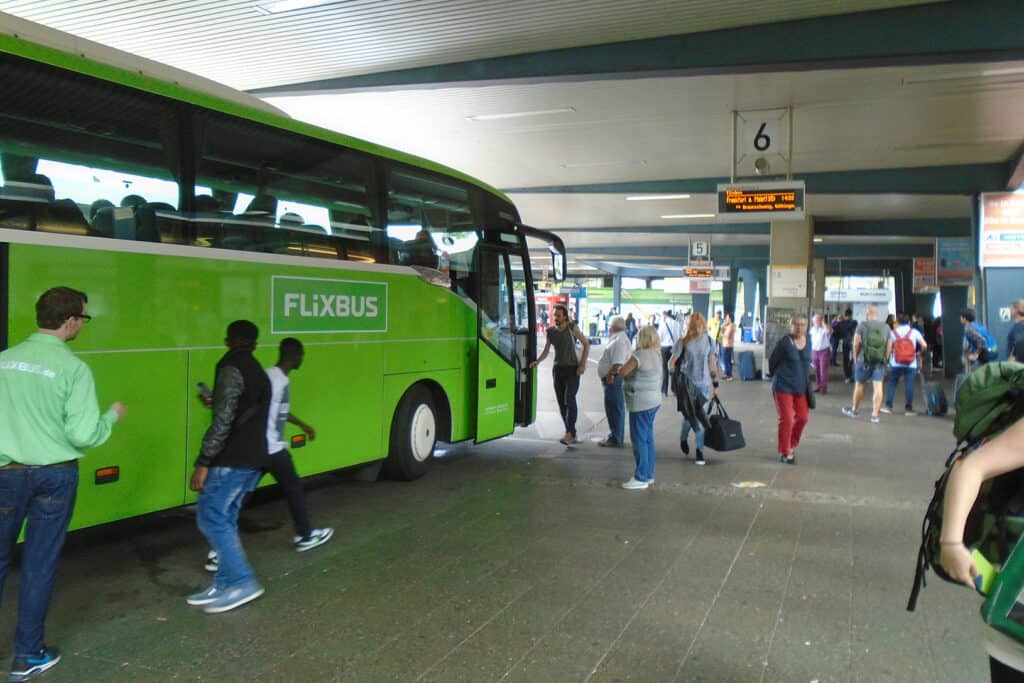 Traveling Europe by bus is one of the most affordable ways to explore the continent. With a range of budget bus companies, passengers can save money without sacrificing comfort and convenience. As bus options expand and prices decrease, more travelers are turning to buses as their preferred method of transportation in Europe.
I've caught buses in Spain and the Baltic states of Estonia, Latvia and Lithuania. The stand out for me other than the cost was the fact the buses have TVs, wifi and nice comfy chairs. While not all will be that fancy, you can expect them to be more than your old school bus ever offered.
If you want to take your bus travel that bit more extreme, opt for a night bus to get from one country to another, as it's one less night of accommodation to pay for while allowing you to get from A to B. It's not the most comfortable travel option for a good night's sleep, but its an option.
Budget Bus Companies
A few notable budget bus companies have significantly impacted the European travel scene, offering low-cost tickets and reliable services. Among these, Flixbus stands out as the largest and one of the most popular providers, thanks to its comfortable vehicles and extensive network of routes.
Flixbus has become synonymous with affordable bus travel to get around Europe, and with ticket prices starting as low as 5 euros one way, it is easy to see why they are a cheap way to travel. Travelers can book tickets through their website or mobile app and enjoy onboard amenities like free WiFi, power outlets, and comfortable seating.
Several other companies also provide budget-friendly bus options across Europe. Eurolines, for example, operates an extensive network of bus routes and offers competitive prices, while Megabus also presents a budget-conscious option for travelers.
With such a variety of budget bus options, it has never been easier to explore Europe without breaking the bank. Remember to plan your journey, as ticket prices can vary depending on the time of booking and season. By opting for bus travel, you can save money and still experience the rich diversity of landscapes, cultures, and attractions Europe offers.
Train Travel
Train travel is the premier way to get around while in Europe. It was by far the best way to get around for me. Train stations are central to each city, the view out the window is far greater than what you see on a highway, and you get to get up and walk around to stretch your legs on longer trips.
It's a great way to travel across Europe, and while not a cheap travel option compared to catching a bus, you do want to use the train for some legs of your trip. A favourite of mine was from Munich down to Florence. Some of the views through the mountains was epic.
Eurail Passes
A Eurail Pass is a railway pass that allows non-European residents to travel throughout Europe on the extensive rail network. This pass is an excellent option for those planning to explore multiple countries and travel around Europe. Eurail Passes offer flexibility, enabling travelers to hop on and off trains without worrying about purchasing individual tickets for each journey. However, it's essential to consider the cost of the Eurail Pass compared to the cost of purchasing point-to-point tickets, as it may not always be the most cost-effective choice for all itineraries.
I loved the comfort of having a Eurail pass, as you've pre-paid for your travel. The only thing to account for is reserving your seat on the train before you plan to travel on the train. This must be done a few days in advance to guarantee a seat on the train during the peak summer months. This can be done at the train station or via some train network apps as well. I always liked doing it at the train station, personally. This let me work out where I needed to be before the day of travel, just in case I was running late or getting lost along the way.
Regional Train Discounts
Another way to save on train travel in Europe is by taking advantage of regional train discounts. Many European countries offer discounted train fares for specific routes or regions. For example, France has a network of high-speed trains (TGV) that often run promotions, with fares starting from €5-10. These discounted fares can be found on the train operator's websites and third-party booking platforms like Trainline.
In addition to regional discounts, travelers may also find savings by booking train tickets in advance. Many train operators offer lower fares for advance bookings, and these discounted fares can sometimes be found several months before the travel date. Being flexible with dates and booking early can significantly reduce the cost of train travel in Europe.
Cheap Air Travel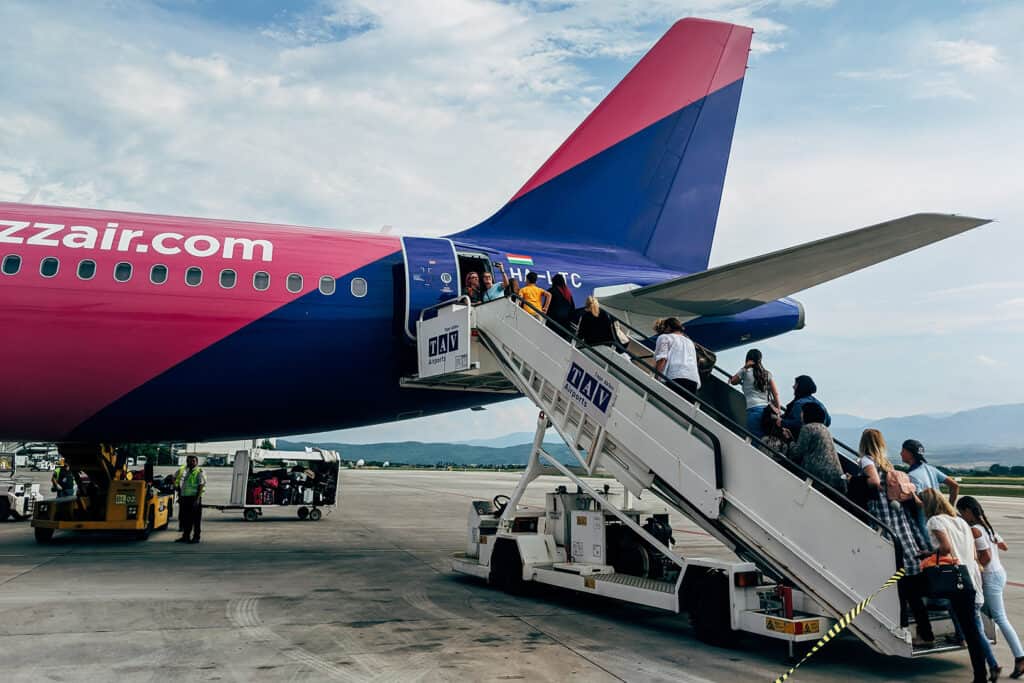 When exploring Europe cheaply, air travel isn't always what you would consider the cheapest option. But flying can be a cost-effective and time-saving option for long-distance trips. Say you arrived in London from abroad (most Australians will be doing this) and must get to Rome or Madrid to start your Europe trip. The cheapest way to get there will be to find cheap airfares with one of the low-cost airlines. Not to mention it's a lot quicker than taking the bus or train if you need to be there in a hurry.
Low-Cost Airlines
Several low-cost airlines exist in Europe. These carriers operate on a no-frills business model, offering basic services at affordable prices. Some of the most popular low-cost airlines in Europe include:
Ryanair
EasyJet
Wizz Air
Vueling
Eurowings
Keep in mind that these airlines often charge for additional services like checked baggage, seat selection, and onboard refreshments, so you'll need to factor in these costs when comparing fares. And don't expect first-class service. You just have to read some of the online reviews to know.
And if all that isn't enough, be aware that these airlines will also fly out of secondary airports, so you might need to get a bus or train an hour or more away from the major cities to catch your flight.
Booking Strategies
To ensure you find the best deals on budget air travel in Europe, consider implementing the following booking strategies:
Use flight search engines: Websites like Skyscanner and Google Flights can help you compare prices across multiple airlines and dates, making it easier to spot the best deals.
Book early: Low-cost airlines often release their cheapest fares months in advance. By booking early, you're more likely to secure the lowest prices.
Be flexible: If you're not tied to specific travel dates, try searching for flights on different days of the week or even in different months to find cheaper fares.
Opt for less popular airports: Low-cost airlines often fly to smaller, lesser-known airports outside of major cities, which can offer lower fares.
Sign up for newsletters: Subscribe to airline newsletters or follow them on social media to receive updates on their latest promotions and sales.
Remember, while low-cost airlines allow you to travel Europe on a budget, it's important to consider any additional fees and charges.
Ridesharing
Ridesharing is an affordable and convenient way to travel around Europe on a budget. By sharing a ride with other travelers or locals, you can save money on transportation costs. In addition, ridesharing provides an opportunity to meet new people and explore different cultures along the way.
Popular Ridesharing Platforms
BlaBlaCar: One of the most well-known ridesharing platforms in Europe, BlaBlaCar connects drivers and passengers traveling in the same direction. Users create profiles on the app or website, and journeys are typically booked in advance. BlaBlaCar operates in many European countries, making it the go-to option for many travelers.
FlixBus: Initially a bus service company, FlixBus now offers a ridesharing option called FlixCar. This service allows drivers to offer empty seats in their car to passengers traveling in the same direction. It is especially useful for covering long distances at a low cost, and it can also be combined with FlixBus' extensive bus network.
Uber: Although mainly recognized as a taxi alternative, Uber is available in numerous European cities like Amsterdam, London, Prague, Berlin, Rome, Athens, and Vienna. In some cases, Uber rides can be more cost-effective than traditional taxis, making it another viable option for budget-conscious travelers.
When planning travel to Europe, considering ridesharing options alongside other transportation methods like buses, trains, and flights can lead to significant savings. Using the popular platforms mentioned above, travelers can find the most efficient and cost-effective way to explore Europe without breaking the bank.
Accommodation Options
Any budget-conscious trip to Europe means choosing affordable accommodations. There are three budget accommodation options: hostels, budget hotels, and alternative accommodations.
Hostels
Hostels are the most popular choice for budget travelers in Europe. They provide dorm-style accommodation, often with shared bathrooms and common areas. These facilities allow travelers to reduce their accommodation expenses significantly. Some hostels offer private rooms or en-suite bathrooms for an additional fee for those looking for more privacy, however they will be more expensive.
Hostels are also an excellent option for socializing and meeting fellow travelers. I can't say enough about the experience I had staying in hostels throughout Europe. The number of friends I made and the fun I had far exceeded my expectations.
Some things to look for when booking a hostel are:
Budget Hotels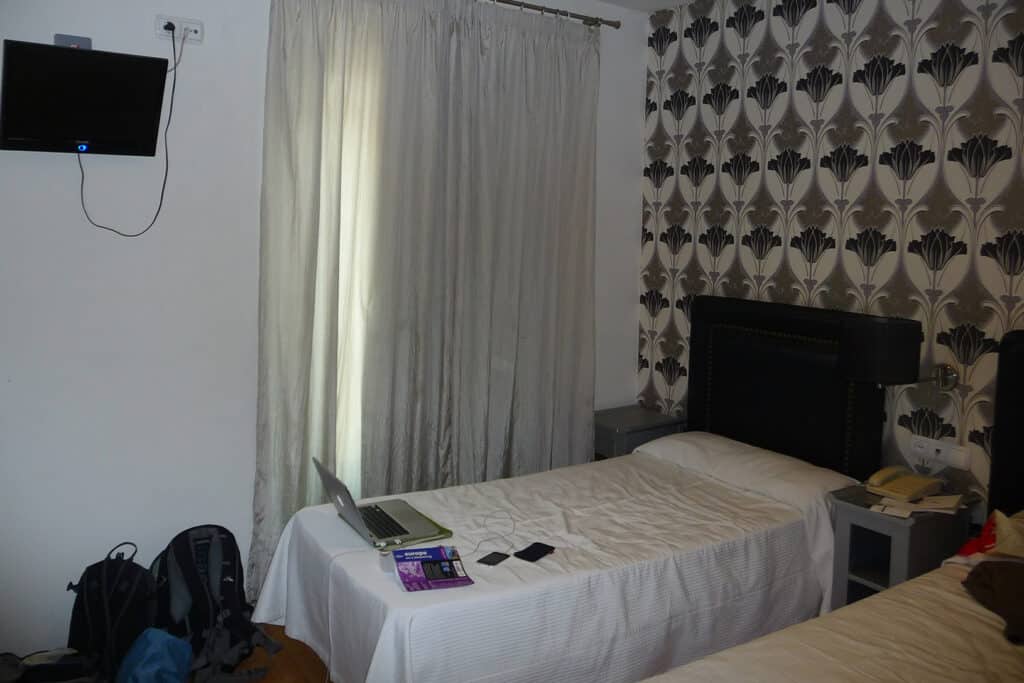 Budget hotels can be a suitable option for those who prefer more privacy. These hotels often offer basic amenities like a private room with an en-suite bathroom. Europe has many locally-owned budget hotels and international chain options, such as Ibis or Premier Inn.
Compare prices and check for deals on websites like Booking.com or Expedia.
Location is essential, so select a hotel that is in proximity to public transportation or popular attractions.
Alternative Accommodations
Europe offers a range of alternative accommodations for those looking to widen their options while traveling on a budget. Options range from guesthouses, bed and breakfasts, to more modern choices such as couchsurfing and Airbnb.
Guesthouses and Bed & Breakfasts (B&Bs):
Similar to budget hotels, these accommodations focus on providing affordable private rooms with basic amenities.
Usually run by locals, they offer a more intimate experience.
Breakfast is typically included in the room rate.
Couchsurfing:
A platform that connects travelers with locals offering free accommodation in their homes.
It's an excellent way to cut costs and get a more authentic experience.
Create a profile and connect with hosts beforehand. Building trust and ensuring safety is key.
I've done this a few times and enjoyed meeting locals and seeing a city through them.
Airbnb:
Renting out a room or entire apartment from locals, Airbnb can be a more affordable option than hotels.
Long-term stays can lead to better deals or discounts.
Before booking, reading reviews and checking the cancellation policy is crucial.
Saving on Food and Activities
Cultural Freebies
Europe is an outstanding region for cultural experiences without spending a dime. Many cities offer free walking tours led by knowledgeable locals or enthusiastic university students. These tours provide an excellent introduction to the city's history, interesting facts, and hidden treasures. Free walking tours are a great activity for the first day you arrive in a city, they help you orientate yourself so you don't get as lost for the rest of your stay.
Art lovers should look out for free entrance days at museums and galleries. Many museums in Europe offer free admission on specific days or even throughout the year. For instance, the Louvre in Paris is free on the first Sunday of each month after 6PM, while London's National Gallery and the British Museum have no admission fees all year round.
Dining on a Budget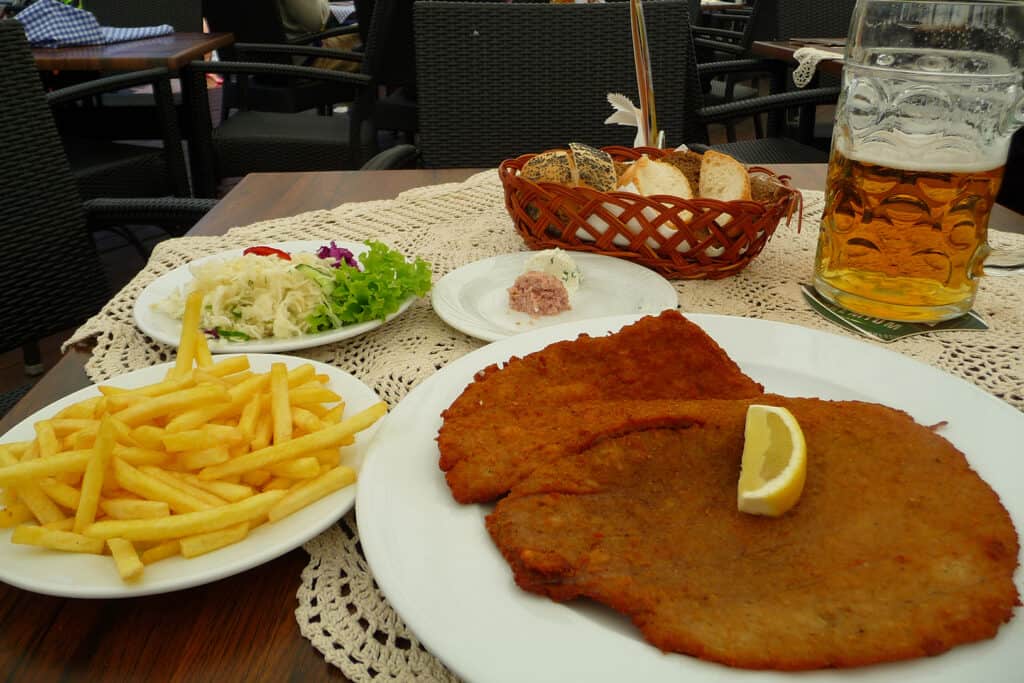 Eating well in Europe doesn't have to break the bank. To save money, opt for local street food or visit food markets that showcase fresh produce, meats, and regional delicacies. Not only will you save on dining expenses, but you'll also get a taste of local flavors and culinary traditions. For example, in Italy, consider visiting a bakery for economical, fresh, and locally-sourced baked goods.
For a sit-down meal, look for restaurants with daily specials or set menu options, often referred to as "menu del dia" in Spain or "plat du jour" in France. These options provide a multi-course meal at a fixed, affordable price. Another tip for dining on a budget is having your main meal during lunchtime, as prices are typically lower than dinner. This is common practice in countries like Italy, where the "tavola calda" (cafeteria) offers cheap, homemade food for locals on a budget.
Also, always look to eat away from big attractions to avoid paying the tourist tax. Wander a few streets back and look for where locals gather to find a better deal and meal.
Traveling Off-Season
One of the most effective strategies for saving money while traveling in Europe is to plan your trip during the off-season. The off-season typically falls between October and April, when tourist crowds are smaller, and prices for accommodations, attractions, and transportation are generally lower.
During the off-season, many hotels and hostels offer discounted rates, which can significantly reduce your accommodation costs. Additionally, airlines often provide lower fares as they aim to fill seats on flights during this less popular travel period. When booking flights, keep an eye out for deals and consider booking several weeks or months in advance for the best prices.
Besides lower prices, off-season travel also allows you to explore Europe's popular destinations without large crowds. This allows for a more immersive and relaxed experience. With fewer tourists, it's easier to visit and enjoy famous sights, museums, and other attractions and to get a table at popular restaurants without waiting in long lines.
One helpful tip for maximizing your off-season travel experience is researching your chosen European destinations' climate and weather patterns. Understanding the local weather will help you pack appropriately and plan your daily activities. Although some regions may have colder or rainier conditions during the off-season, being prepared with suitable clothing and gear will ensure a comfortable trip.
Traveling off-season in Europe can lead to significant cost savings. By planning your trip during less popular months and considering factors such as accommodation, transportation, and weather, you can make the most of your European adventure on a budget. It might not be all blue skies and sunshine, but there's something unique about Europe under a moody sky. The further south you go to, say Italy or Spain, the better the weather as well, even in winter.
Frequently Asked Questions
What are the most affordable transportation options in Europe?
Buses are the most affordable way to travel around Europe. Companies like Flixbus and Eurolines provide low-cost intercity bus services. Another budget-friendly option is local transportation, such as metro and tram systems. For long distances, consider budget airlines like Ryanair or easyJet, which often have cheap flight deals.
Which European countries are the most budget-friendly to visit?
Eastern and Southern European countries tend to be more budget-friendly, with lower costs for accommodation and food. Examples include Romania, Bulgaria, Poland, Hungary, and Portugal. Western Europe countries like France, Germany, and the United Kingdom are generally more expensive but offer great value if you plan well and travel in the off-season.
What is a cost-effective itinerary for a European vacation?
A cost-effective itinerary focuses on visiting more affordable destinations, spending less time in expensive cities, and taking advantage of free or low-cost attractions. Consider planning your trip around countries with lower living costs and traveling between them using budget transportation options like buses or budget airlines.
How can I maximize my budget while traveling in Europe?
Some tips for maximizing your budget include:
Packing light to avoid fees for checked luggage
Using public transportation instead of taxis or renting a car
Staying in hostels, budget hotels, or using accommodation-sharing services like Airbnb
Eating at local markets, street food vendors, and affordable restaurants
Participating in free or low-cost activities and taking advantage of free walking tours
What are the best resources for finding inexpensive accommodations in Europe?
Popular resources for finding budget accommodations include:
Websites like Booking.com, Hostelworld, and Airbnb
Facebook groups and discussion forums where travelers share tips and recommendations
Guidebooks and blogs that focus specifically on budget travel
Are there any travel hacks for saving money on food and attractions in Europe?
Yes, there are several travel hacks to help you save money:
Utilize supermarket meal deals or cook your simple meals if you have access to a kitchen
Look for restaurants with daily specials or set lunch menus at lower prices
Visit museums and attractions on days when they offer free or discounted entry
Use city tourism cards that provide discounts on attractions and transportation
Consider purchasing a Eurail pass if you want to travel extensively by train, as it can be more affordable than individual tickets.