Wanting to backpack Europe? Whether planning a short-term trip or an adventure of a lifetime, backpacking through Europe is the perfect way to experience all the beauty and culture this continent has. But when is the best time to visit Europe? Summer, Spring or do you prefer the cold of Winter? Is there even a bad season to travel to Europe?
Europe isn't a destination you can only visit at a certain time of the year, though certain times are far more popular. Most people prefer backpacking Europe during the summer due to more events on offer, warm weather and far more daylight hours. This is why the spring and summer period is often called the peak season or best months to travel, as it's the most popular time to visit.
Research the Weather and Events
The decision is made. You're backpacking through Europe this year, great. Now it's time to research the weather and events on offer. European countries experience different weather patterns throughout the year, so familiarize yourself with the climate in each area you intend to visit.
The further you go north to Sweden or Denmark, the colder and darker it is in the winter months while heading south to Italy and Spain will offer you are milder winter but hotter summer. While it seems the world's seasons are ever-changing, I've found from around late May onwards, you'll start enjoying warmer weather as spring rolls into the summer months.
Also, remember that festivals and other events can significantly affect your travel plans. If something special happens during the time you're visiting, make sure to plan accordingly. You may be unable to find a place to stay or see accommodation costs skyrocket when a major festival is happening. Think Octoberfest starting in late September, the running of the bulls in Pamplona that happens in July or La Tomatina in August.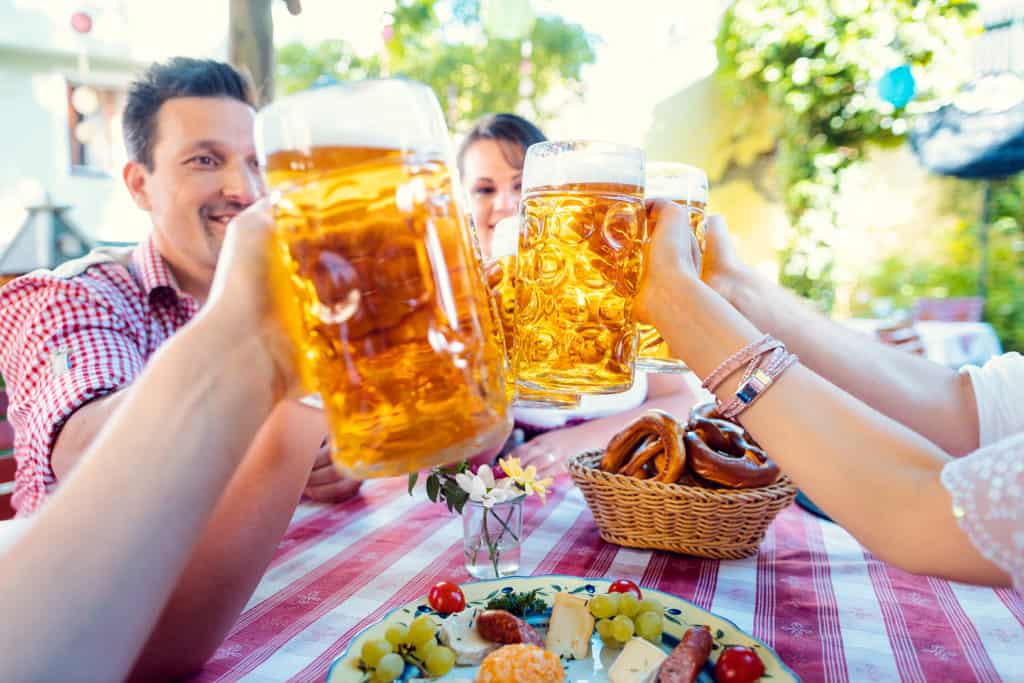 If you hope to attend some of these events around Europe you want to book a hostel long in advance, so you don't miss out and plan your travels to be there on time. Attending events is one time that a more go-with-the-flow travelling style can be less desirable.
Narrow down the best time to travel based on your interests. For example, if you're looking for sun and warm weather, spring or summer in Europe is likely the best option. If you're looking for vibrant autumn foliage and cooler temperatures, autumn is a great time to visit. Regardless of the time you do travel, there are so many places in Europe to see you'll never run out of things to do, rain, hail or shine.
Plan Your Route
Once you know what time of year you'll be backpacking Europe, it's time to plan your path around Europe. Depending on your budget and how many countries you want to visit, you'll want to plan how long to stay in each place. If you're planning to see Europe on a budget, you may want to stick to one or two countries and explore them in-depth rather than trying to visit as many countries as possible. On the other hand, if you have more time and money, you can plan out a more extensive route that takes you through several countries with more wiggle room to do as you please if you decide to stay somewhere longer.
Another thing to factor in is, are the countries you want to see in Northern Europe, Central Europe or Southern Europe. Are they close to each other, or are you looking at having to cross the continent to see France and Estonia? While it would be nice to see everywhere, budget and logistics might guide your desired travel path. Keep that in mind as you plan your trip.
No matter which path you choose, make sure to research each destination ahead of time so that you know what attractions you want to travel to see and what activities are available. Utilize travel forums or travel blogs like ours to get personal recommendations from people who have already been there. Additionally, look up the cost of accommodations and transportation to budget accordingly.
As I started my first trip around Europe, I travelled too fast. I was too excited to see a new city that I'd spend a few days in one before moving to the next city. While I had planned the route, I never really set a limit on how long I'd stay in one place. I regret being too flexible, as I was caught out a couple of times with limited places to stay. Not only that, but I failed to enjoy some places as I never stayed long enough.
If I had my time again I'd have created a better itinerary with a list of potential hostels to stay in ahead of time and more details on events going on while I was in Europe. While I did enjoy the freedom of not being locked into pre-booked hostels, it wasn't the best decision either.
Consider the Cost of Travel
When it comes to backpacking, the cost of your trip is going to be one of the most important factors in deciding when and where to go. The best way to keep your costs down is to travel during the shoulder seasons (April-May and September-October). Prices for flights and accommodation tend to be lower during these months, especially if you book well in advance. Additionally, there will be fewer tourists, and you can often find discounts on activities and attractions.
That said, if you're willing to spend a bit more money, the peak season (May-August) is when you will likely get the best weather and have more daylight hours. Remember that prices will be higher during this period, so it's worth researching before you book.
Another option is to travel to Eastern Europe instead of Western Europe as your money will last longer. I found Eastern Europe a refreshing part of the continent to visit. Less in your face tourism and just as beautiful and historic as the rest. Great for those of you planning to budget travel your way around Europe.
While accommodation and travel costs are fairly set you can save money by cooking meals in your hostel, seeking out discounts before you book events or tickets and travelling to cheaper countries for longer and more expensive ones for less time.
When you start planning your trip to Europe, consider researching peak prices for the attractions you're interested in to grab discounts and early booking offers. Not only will this help you plan better for your budget, but it will also help you avoid crowds and save money on your trip.
Choose Accommodations Wisely
Choosing the best time of year to go backpacking in Europe is essential for ensuring your trip is enjoyable and stress-free. However, it's also important to consider your accommodation options when planning your trip. Depending on when you decide to travel, you may find that prices for hostels can fluctuate significantly, meaning your stay in Europe might end up being far more expensive than you think.
During the high season (May-August) the majority of travelers flock to Europe, and this is usually when accommodation prices are at their highest. If you're on a limited budget, you may find it more cost-effective to avoid peak season and travel during the shoulder season (April-May and September-October). These months are warm enough for outdoor exploring, but there will be fewer crowds and lower accommodation costs.
If you're looking for a unique experience, consider staying in a local guest house, homestay or couch surfing. You'll get a real insight into local culture and customs while meeting like-minded travelers and locals. Plus, you can usually save money while enjoying the comfort and convenience of a home away from home.
Alternatively, if you're looking for something more luxurious, there are plenty of boutique hostels now that offer high-end amenities at reasonable prices, all with that loving hostel vibe. Just make sure to read reviews and compare prices before booking.
No matter when you visit Europe, there's something to suit everyone's budget and travel style. By taking the time to research your options, you can find the perfect place to stay that won't bust your bank account.
Take Advantage of Free Activities
Once you have planned your trip and know the best time to go backpacking through Europe, you can start thinking about activities. One great way to save money on your trip is to take advantage of free activities. There are plenty of free activities across Europe, from city walking tours and museum visits to outdoor activities like hiking and beach visits.
Take a few minutes to research the city you're visiting and find out what kind of free activities they offer. Many cities have free walking tours, which I highly recommend doing on your first full day in a new city. They are a great way to get acquainted with a new city and learn your way around, as well as learn about its history and maybe make some new friends.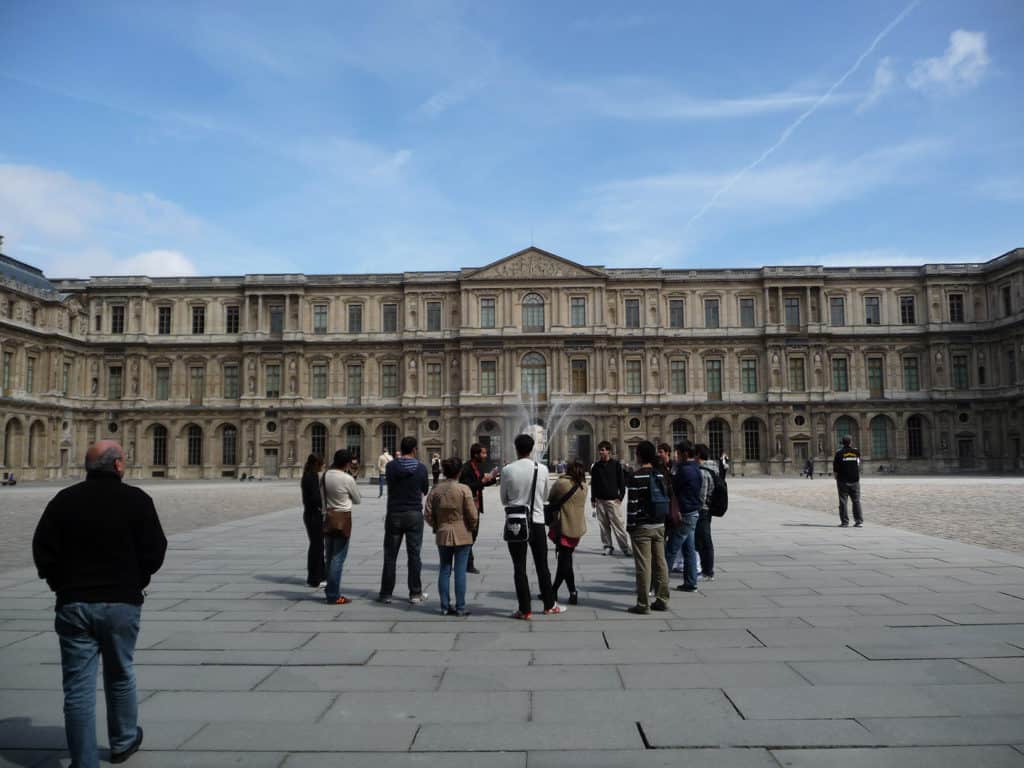 Many museums also offer free admission or discounted rates for students, so be sure to bring along your student ID if you have one. Outdoor activities like hiking in the countryside or taking a dip in the Mediterranean are also free and can be enjoyed year-round.
When taking advantage of free activities, the key is to plan. Research the area beforehand and come up with a list of places to visit and things to do that won't cost you a penny. This will also help you stay on budget and make the most of your trip!
So many of the things I saw and did while backpacking around Europe were free. Some I paid for, like climbing the Eiffel Tower in Paris and touring around Pompeii in Italy. But many museums and churches are free to enter or only require a coin donation. Not forgetting, many European cities only require you to look around you as you walk the streets to enjoy their history and beauty.
In short, Europe has a ton of free things to try and fit into your trip-planning itinerary.
Pack Your Essentials
Before you set off on your backpacking journey to Europe, it's important to make sure you're prepared. Start by packing the essentials that will make your trip a success. This includes a comfortable backpack, proper clothing (but not too much), footwear, and toiletries.
Check the weather in the areas you plan to visit and pack accordingly. You won't need a big wet weather jacket if you only stay there in summer. You should also bring a power bank to keep your electronics charged as outlets are always at a premium in hostels.
Finally, bring any necessary paperwork, such as your passport, visa, and insurance documents. With these essential items packed, you'll be ready for your backpacking journey!
Be Aware of Cultural Norms
Europe is incredibly diverse, with a wide range of cultures and customs. Before you start your backpacking journey, it's important to take the time to research the cultural norms in the countries you plan to visit. This will help you respect the people you are visiting and ensure you don't accidentally cause any offence.
Doing a little research ahead of time can help ensure you have a respectful and enjoyable European experience. Look for blogs and travel guides written by locals about their respective countries for an inside look at what to expect regarding cultural customs. This can help ensure you're properly prepared for your trip and make the most of your experience.
It might not mean much to you, but to locals who see tourists all the time, if you can at least try to be aware of their customs or ways of doing things, it can mean a lot.
Learn the Language Basics
Learning the basics of the language of the country you plan to visit is a great way to make your trip more enjoyable. Not only will it help you communicate with locals, but it will also allow you to understand their culture and customs better. Plus, a basic understanding of the language can make it easier to navigate your way around and find the best tips on places to go. It's not that you can't speak English everywhere, its just more polite to make an effort.
You don't need to be fluent in the language to enjoy your trip, but plenty of resources are available online and offline to help you learn the basics.
Here are a few tips for getting started:
• Look into courses offered at local universities or language schools – these can be great if you want a more in-depth understanding of the language.
• Take online classes – there are plenty of online courses and apps for your phone available that can help you learn a variety of languages. Some even offer specialized courses for travelers. I found Duolingo great, and it's free.
• Find language exchange partners – this is a great way to practice speaking the language and make new friends simultaneously. Many cities have language exchange groups that meet regularly.
• Listen to podcasts or watch videos – there are plenty of free resources available online that can help you learn the basics of a language. Podcasts and videos are a great way to get started, as they often provide simple conversations in the language that you can follow along with.
• Buy books or other materials – if you prefer learning from physical copies, there are plenty of books, workbooks, and other materials available online and in stores.
No matter what method you choose, learning a few words or phrases before you go will make your backpacking trip even more enjoyable. I mostly butchered my attempts to speak in a foreign language, but it gave the locals a good laugh and made the exchange between them far more inclusive.
Stay Safe on Your Trip
Traveling to a foreign country can be exciting. However, it is important to stay safe throughout your journey. Taking measures like researching the local culture, understanding the language, and having the right insurance can help keep you out of harm's way.
Even if you're traveling for a short period, it pays to do your research. Learn about local laws and regulations so you know what to expect when you arrive.
Europe, as a whole, is pretty safe. I've never felt unsafe traveling around Europe no matter the country I was visiting. A few places might have been a little sketchy, but I was traveling outside the normal tourist trail as well.
Another important aspect of staying safe while traveling is ensuring you buy adequate travel insurance. I can't recommend you buy travel insurance enough. Just get it!
Make sure to read the fine print and understand what kind of coverage is included in your policy, so you don't get any unpleasant surprises along the way. I can't stress how important it is to have travel insurance while abroad. Should the worst happen, a hospital stay can quickly add up to thousands of dollars you may not have. It seems like a lot of money, but the alternative is far more expensive, so get it.
Finally, keep all important documents in a safe place, such as in your hostel locker or with you in a money belt. And remember, always be aware of your surroundings and trust your instincts. If something doesn't feel right, it probably isn't.
Train stations and large areas where tourists gather are prime locations for pickpockets, so keep your wallet in your front pocket and your backpack or bag secure with you.
Being safe is more often than not about using common sense. Much like it is in your home cities and towns. Do that, and you'll have nothing to fear.
Document Your Trip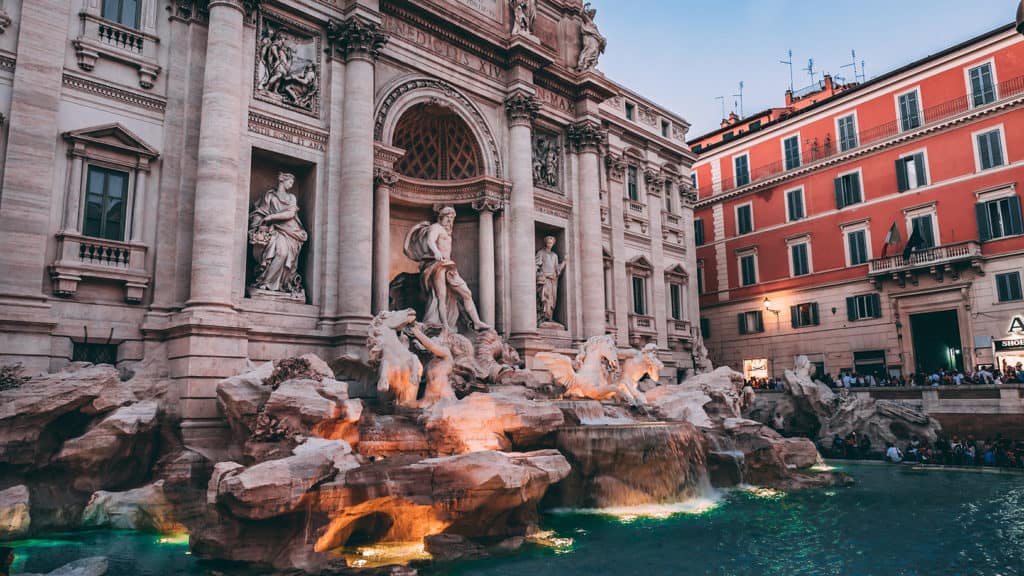 Documenting your trip is an important part of backpacking in Europe. You'll want to capture the beauty of the places you visit, the culture, and the people you meet along the way. To make sure you have the best photos and videos, here are some tips for documenting your journey.
1. Bring a quality camera or phone with plenty of storage – Invest in a good camera or mobile phone with plenty of storage room that will capture your experiences. I never took enough pictures on my first trip and deeply regretted it.
2. Take pictures of people – People are part of the experience of backpacking in Europe, so take pictures of all the locals you meet!
3. Look for unique perspectives – Get creative with your shots and look for unique angles and perspectives you wouldn't find anywhere else.
4. Share your journey – Don't forget to share your journey with family and friends back home! Posting your photos online or sending postcards is a great way to keep them updated on your travels.
6. Have fun – Most importantly, have fun documenting your trip! Don't stress too much about getting perfect shots. Enjoy the moment and capture it as best as you can!
Make the Most of Your Time
Now that you've determined the best time to backpack Europe and planned your way around the continent, it's time to make the most of your time! Here are some travel tips and tricks to ensure that you get the most out of your trip:
Backpacking around Europe is a once-in-a-lifetime experience, and you'll want to make sure you make the most of your trip! it's a cliche, I know, but get off the beaten path. Sure, it's fun to check out all the tourist hot spots, but don't forget to explore some lesser-known places and explore Europe. You'll find some amazing, unique experiences.
Be Open-Minded. Don't be afraid to try new things or try something that's outside of your comfort zone. After all, you're traveling to experience a different culture and way of life!
Talk to Locals. Please get to know the locals and learn about their culture, stories, and experiences. This will be one of the most rewarding experiences on your trip and will help you get an inside look at what it's like to live there. Traveling Europe as a solo backpacker forced the shyness out of me as I needed to speak to locals to get directions, buy food and enjoy my time in a hostel.
Stay Flexible. Don't plan too much ahead, and be open to spontaneous decisions. You never know what great opportunities might arise if you're willing to take a chance. I'd originally never planned to visit Italy and was going to finish my trip in Switzerland. But on the advice from friends I made in a hostel, I headed down to Naples and the Amalfi coast and did not regret it for a second. I stayed in an amazing hostel there and met great people. It was the best place to finish my trip around Europe before heading to the UK to live. I'd have never experienced that had I had a rigid plan for my trip.
Train travel is the most relaxing way to travel through Europe from country to country. While they can be more expensive than taking a bus, they are also a lot quicker, and you can get up and move around. Not forgetting they have lovely big windows to look out of, and most have food for sale onboard. Get a Eurail or interrail pass to save you money if you intend to travel on the train multiple times between countries in Europe.
Take Time Out To Relax. Travelling can be exhausting, so make sure you take some time out. You can get so caught up in seeing and doing things that taking a day to sit and do nothing feels like you are wasting time. It took me getting sick after a few weeks abroad to slow down and finally breathe. A day doing nothing isn't a day wasted. It's a chance to chat with others in the hostel, do much-needed laundry and talk to family back home about your adventure.