There are hundreds of essential packing lists, lists of hostel essentials and must-have items for a hostel stay online. A good 90% of them all tell you the same thing. They'll ask you to pack ear plugs, a torch, travel toiletries, eye masks, a money belt (seriously, who uses one of those?), and the list of essentials goes on and on.
But in my mind, most of that's either common sense or dependent on the type of person you are. If you struggle to sleep with noise around you, you bring earplugs and or a mask. If you need to be in your bag at night, most people travel with a phone that will do the job. I'd hardly call many of them an essential item or hostel essential to get the most out of your stay.
A list of hostel essentials to me should contain items that, without them, mean your experience at the hostel won't be as good as it could be. It's not a glorified packing list. It shouldn't be a list of just physical things either.
Travel itself and staying in hostels is an amazing experience. One that requires more than a bunch of stuff you may or may not use in a backpack.
The Real Hostel Essentials You Need
1. A Can Do Attitude
As someone who was very shy and quiet before setting off to backpack Europe, I knew I needed to go into the experience with a can-do attitude.
I'd hardly travelled abroad solo, never stayed in a hostel and only spoke English. I was going way out of my comfort level, but I knew if I just stuck to myself and didn't open up to what I was doing and the people around me, the trip would have been miserable.
I got lost on my first day in Paris trying to find my hostel. I got lost in just about every new city I visited (side note if you can get roaming on your phone or local sim cards, do it to save getting lost). But each time, I found where I needed to go, and by the time I left a city, I was more than capable of getting around and was better for it.
The same goes for staying in a hostel. You must be willing to speak to your bunkmates and interact with others at breakfast and in the common room. Tag along with someone going to a museum or to get some food. If the hostel is running an event or a group meal, get involved and join in.
Some of the best memories I have from staying in a hotel are from the friends I made. And you make friends quick. You go from nobodies to hanging out and having the time of your life for the few days you are together before you, or they move on to their next destination.
I put this item first because, without it, I'd never have enjoyed my time travelling. If you only pack one hostel essential from this list, make it this one.
2. A Padlock
Safety of your belongings while travelling is huge. Having your stuff stolen while abroad can destroy your experience. You will leave 95% of your belongings in the hostel when you go out to explore, so knowing they are safe is important.
Hence why I have a whole article on picking the best padlock for a hostel stay so you won't be out climbing the Eiffel Tower and wondering if your stuff was stolen.
Hostels provide lockers or other storage options that you can lock with your own padlock. These will be in your room or under the bed of your dorm room.
It's essential to have a couple of different padlocks with you to fit the various locker sizes hostels provide. A combination lock is best, so you don't worry about having a key get lost.
The padlocks can also double as protection for your bags while you are in transit from city to city abroad a train or bus. Trips can be long, and you might fall asleep, knowing your bags are locked up and with you can make that feel that bit more comfortable to sleep.
3. Travel Adapter & Other Electronics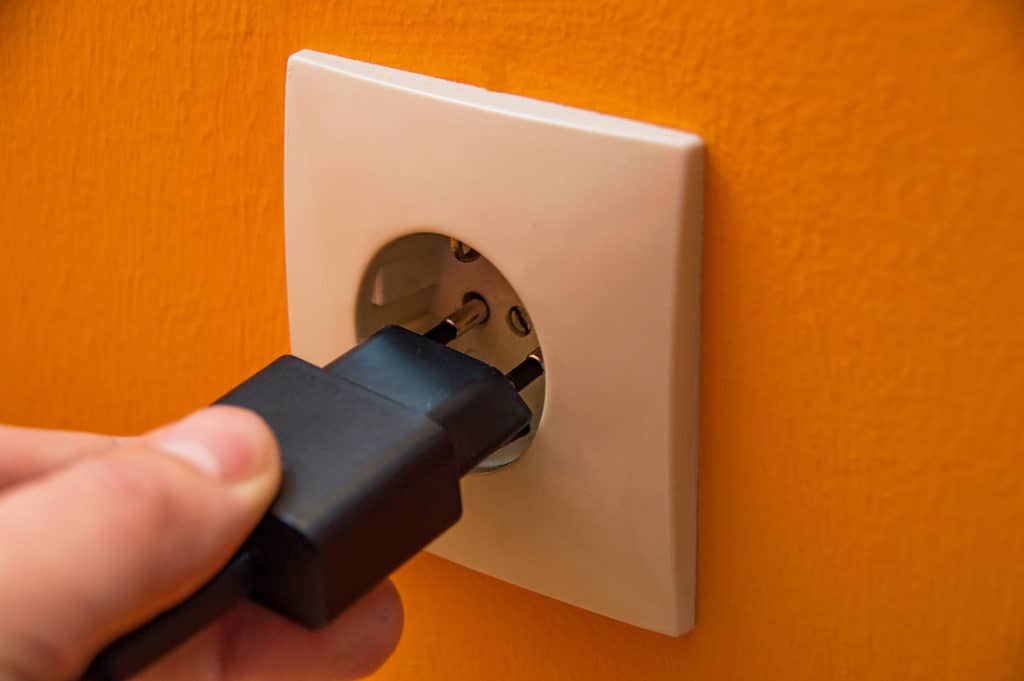 We live in a world of always being online and having more than one gadget or electronic device with us. You can do a lot from just your phone these days, but usually, you've got at least two devices to charge at the end of a day.
As you travel, you need to book your next hostel, maybe a tour or flight. Even start applying for jobs if taking up a visa to live in another country. Even just to take some me time in the hostel one day and chill out watching a movie (don't forget some headphones).
All this to say, more people than ever consider travelling with a phone and or computer essential to their travel experience.
They all need to be charged easily and quickly.
My optimal setup is to travel with a quality universal travel adapter (one that has a USB port or two is best) and also a four-outlet power strip or powerboard with built-in surge protection.
With this combination, you can charge your phone, computer and even a friend in the hostel's devices all from one outlet in the wall. Nobody in the hostel likes someone taking up all the outlets in a room.
4. A Travel Towel
I know what you are saying. How do you consider this an essential item when it's more common sense than anything else. I list this because I've seen some people pack huge towels into their backpacks. Because I've had to share a dorm room with someone who's been using this big smelly cotton towel as it's not been washed for two months. And because there are very limited places to hang a big towel and dry it quickly.
I get you want a big soft towel to dry yourself with, comforts of home on the road. But just don't do it.
There are some amazing (and large) quick dry towels you can buy that work just as well but dry so much quicker and pack a LOT smaller into your bag. Not to mention quick dry towels are better designed to protect against bacteria and bad odours.
5. First Aid Kit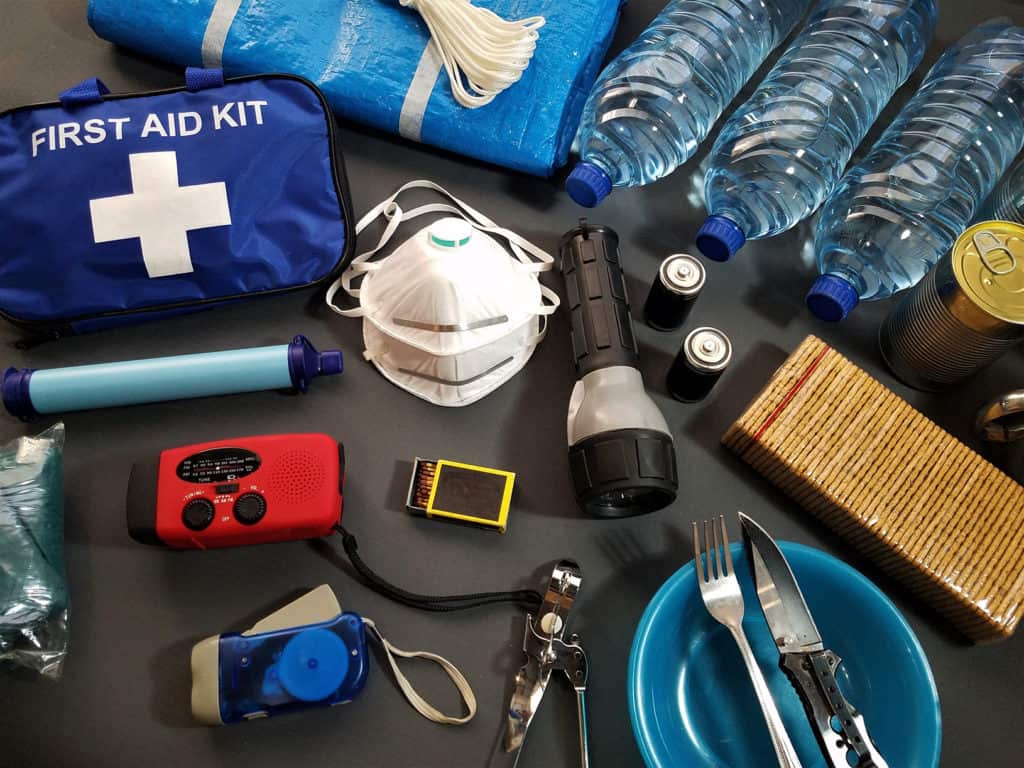 We all get a headache (some self-inflicted), a blister, a cut, or eat something that upsets our insides. So packing some essential health items to deal with them as they happen is a must.
You'll be walking a great deal as you explore a new destination. I made sure to wear my walking shoes a bit before heading off, but I still had a blister from my shoes rubbing. Having a plaster or bandaid saved that from becoming a lot worse and let me keep getting out of the hostel.
Travelling abroad also means all new foods to eat. They won't all agree with you, some less than others, depending on the part of the world you find yourself in. Something to settle the tummy is never a bad thing.
And then the usual assortment of items to clip your nails, treat a cut and take care of anything else you might need is good planning. Yes, pharmacies are everywhere, but if you don't feel 100%, will you want to go out and find one?
Not to mention you'll be the saviour for your new hostel friends if you can help them out with a first aid emergency.
6. Flip Flops For The Shower
No matter how well hostels clean their showers you can never know just what is lurking down on the floor. So pack yourself some flip flips (thongs) for use in the shower. You get yourself all clean and avoid picking up any nasties on your feet.
7. Common Sense
It's all in the name. You will be living in and around many other people in close quarters. So be mindful of the things you do that might impact their experience.
Here's a list of some essentail things to pack in your mind before you set foot into a hostel:
Don't take long showers.
Turn on the lights in your room at night when others are sleeping.
NEVER pack plastic bags. The rustle of them in your bag is so annoying.
Be respectful of others. Everyone is different and travels in their own way. Be engaging, but don't force people to travel the same as you.
Be friendly.
Hog the power outlets.
Is This A Complete Essential List?
No its not, its just my opinion based on my travels. Everyone travels differently and might classify something else an essentail item to their hostel stay compared to what I think.
But thats the great think about travel, you can do it however you like. I do think that no matter how you travel the above list will be a great starting point to get the most out of your time staying in hostels.