Planning a trip to Rome and wondering how many days you need in Rome to see all the amazing sites? Rome is one incredible city with so much to offer, but it can be overwhelming to figure out where to start. So let me help you decide how many days in Rome you'll need.
When planning your trip to Rome, you want to decide how many days you need to spend in the city so you can plan your itinerary on what to see and do. The length of time needed depends on your priorities and interests. If you're looking to explore the must-see attractions and landmarks of the city, then four full days in Rome should be enough. This allows you to spend one full day exploring Rome's main districts, giving you an overview of the city's culture and attractions. If you want to spend more time immersing yourself in the local culture and don't plan to visit many other countries while in Europe, then seven days would be ideal for helping you see everything.
You can also break up your time in Rome by taking day trips from Rome to other cities such as Ostia Antica, Tivoli and the Amalfi Coast. With four days, you'll have enough time to immerse yourself in Roman culture and see all the must-see sights and attractions. Of course, if your budget and time allow, the longer you stay, the more you'll get to enjoy. Who wouldn't hang around for some extra pizza or gelato?
What Time Of The Year Is Best To Visit Rome
Rome is a stunning destination throughout the year, but the best time to visit is during spring (mid-March to May) and autumn (late September to October). During these months, the weather is milder, and there are fewer crowds, allowing visitors to enjoy their time in the city. Accommodation rates are also lower during this time compared to the high season, which typically runs from June to September. However, the peak summer months are also a great time to be there, provided you don't mind bigger crowds.
Must See Sights and Attractions In Rome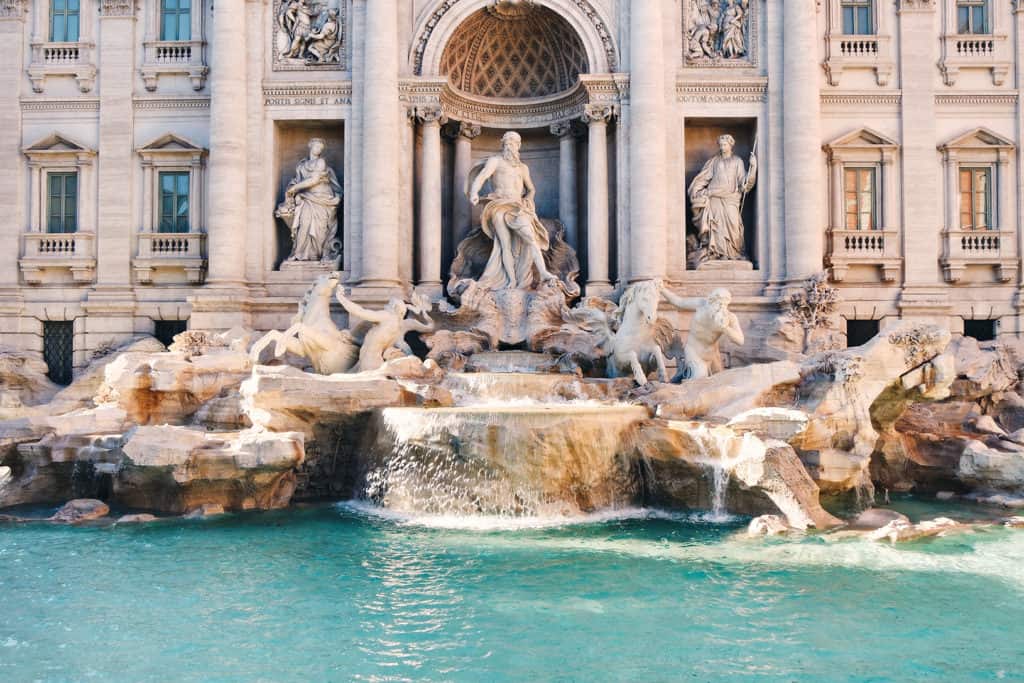 There are plenty of sights and attractions in Rome that cannot be missed when visiting the city. The Colosseum, Pantheon, Trevi Fountain, Spanish Steps, and Vatican City are all must-see attractions for any first-time visitor. If you have the time, it is worth exploring other popular attractions such as Capitoline Hill, Piazza Navona, Castel Sant'Angelo, and the Roman Forum. The hardest part is allocating enough time to see Rome's sights and attractions properly, as you won't want to miss out on anything important.
We've rounded up some of the must-see sights and attractions you will want to see and do in Rome below.
1. Colosseum
The Colosseum is one of the most popular attractions in Rome and is a must-visit for any trip to the Italian capital. This iconic landmark was built in the first century and could house up to 65,000 spectators, who watched gladiators battle each other and animals. The Colosseum is surrounded by some of the most important sites of ancient Rome; the Roman Forum, Palatine Hill and Nero's recently excavated Domus Aurea. It's no surprise that more than 6 million people visit the Colosseum every year, as it's an impressive monument that will leave you in awe.
2. Trevi Fountain
No trip to Rome is complete without a visit to the iconic Trevi Fountain located in the center of Rome. Designed by Italian artist Nicola Salvi, the fountain stands 26 meters high and 22 meters wide and is the most famous fountain in Rome. Legend has it that if you toss a coin into the fountain, it ensures your return to Rome. The area around the fountain is always buzzing with activity which makes getting a photo of just you and the fountain difficult. Go in the early morning to beat the crowds.
3. Pantheon
The Pantheon is located in the historic centre. This architectural masterpiece was built by the brilliant Michelangelo and is a testament to Roman engineering and design. It is one of the best-preserved ancient monuments in Rome and is awe-inspiring. Again try and get there early in the morning to admire the grand structure without being overwhelmed by the crowds.
4. Vatican Museums
The Vatican Museums in Rome are home to some of the world's most spectacular and iconic artworks. The museum is located next to St. Peter's Basilica, and it contains over 41,273 pieces of art, including paintings, sculptures, maps and more. Inside, you'll find the Sistine Chapel and Raphael Rooms, which are some of the most famous pieces of artwork in history. You can also walk out onto the terrace or take the museum path and explore the long corridors and wings of the Vatican Museums. No matter what you explore in the Vatican Museums, you won't be disappointed with its breathtaking beauty.
5. St Peter's Square
St Peter's Square lies at the feet of St. Peter's Basilica and is one of the most famous squares in the city, with a history that dates back almost 400 years. It offers a rare bird's-eye view over Rome and spectacular views of iconic landmarks such as the Colosseum, the Pantheon, and other landmarks. You can also enjoy a descent into the Basilica to admire its beauty. It is believed to be one of the world's richest, largest, and most impressive churches. After taking in the sights and sounds of St. Peter's Square, visitors can head to the nearby Villa Borghese Gardens for a bit of calm amidst the bustling city.
6. The Arch of Constantine
This impressive monument is located between Palatine Hill and the Colosseum, and it celebrates the victory of Constantino over Maxentius. Its majestic triple arches make it a sight to behold, and it is a must when on a visit to Rome.
7. Roman Forum
The Roman Forum dates back to the 7th century BC. The Forum was once the centre of everyday Roman life. As you explore the ruins of this ancient city, be sure to visit the Temple of Saturn, the Basilica of Constantine and the Temple of Vesta and Eternal Flame. You can also take a guided tour to learn about the history and architecture of this incredible site.
8. Spanish Steps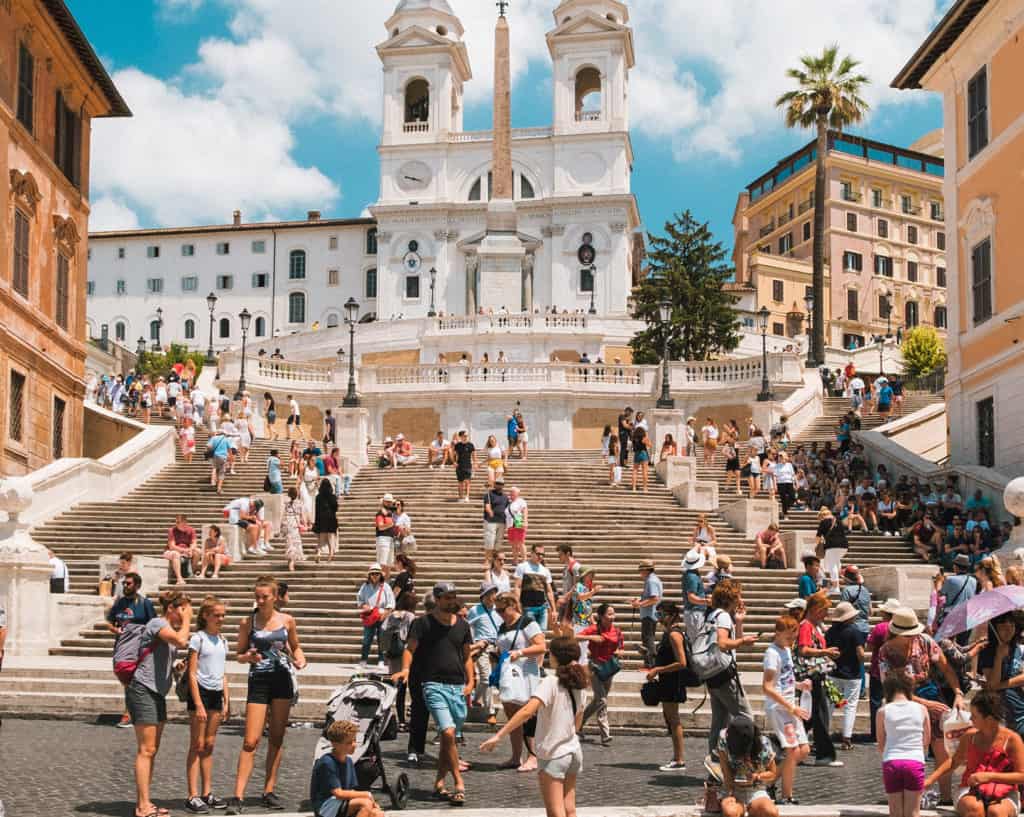 The Spanish Steps are a beautiful and iconic 18th-century staircase at the bottom of Pincio Hill in Rome. From here, you can enjoy stunning views of the city, and you can also find several other attractions nearby, like Villa Borghese and Galleria Borghese, as well as Villa Medici from the 16th century. Throw a coin into the Barcaccia Fountain near the Spanish Steps to make a wish, and explore all the other important attractions in this area. Best of all, it's free to visit! Just remember you can't sit on the Spanish Steps. If you do and get caught you'll face a fine of up to 400 euros.
9. Castel Sant'Angelo
This remarkable Castle of the Holy Angel was originally a mausoleum built by Emperor Hadrian in AD 135. It has been used as a fortress, a hideaway, and a museum at different points throughout its history. Today, it features a statue of an angel on top of the fort as a reminder of Pope Gregory IX's victory over an enemy attack in 1277. From the upper terrace of the Castel Sant'Angelo, visitors can enjoy some incredible panoramic views of ancient and modern Rome.
10. Capitoline Hill
No trip to Rome would be complete without a visit to Capitoline Hill, the smallest of the Seven Hills of Rome. Located between the Roman Forum and Campus Martius, Capitoline Hill is home to some of the most important monuments in Rome. It's home to the Capitoline Museums, a complex of buildings with ancient sculptures and artefacts. There are also two iconic squares on Capitoline Hill: Michelangelo's Piazza del Campidoglio and Carlo Maderno's Piazza di San Pietro in Vincoli. Taking a stroll through these squares is a great way to appreciate the history and beauty of Rome.
Immerse Yourself in Rome
Although four days may be enough to see the main attractions, if you want to fully immerse yourself in the city's culture and take your time exploring, then you may want to stay longer. Rome is a bustling city yet surprisingly small, and there's always something new to discover. With a longer stay, you'll be able to explore different neighbourhoods and get a better feel for the city.
Spend your days wandering the narrow cobbled streets of Trastevere, the historic centre of Rome, admiring the ancient ruins of the Roman Forum, or taking a stroll through the gardens of Villa Borghese. Rome is a city for all seasons, so no matter when you visit, there will be plenty of things to do and see.
Below are a few activities worth taking the time for away from all the sightseeing.
Eat Gelato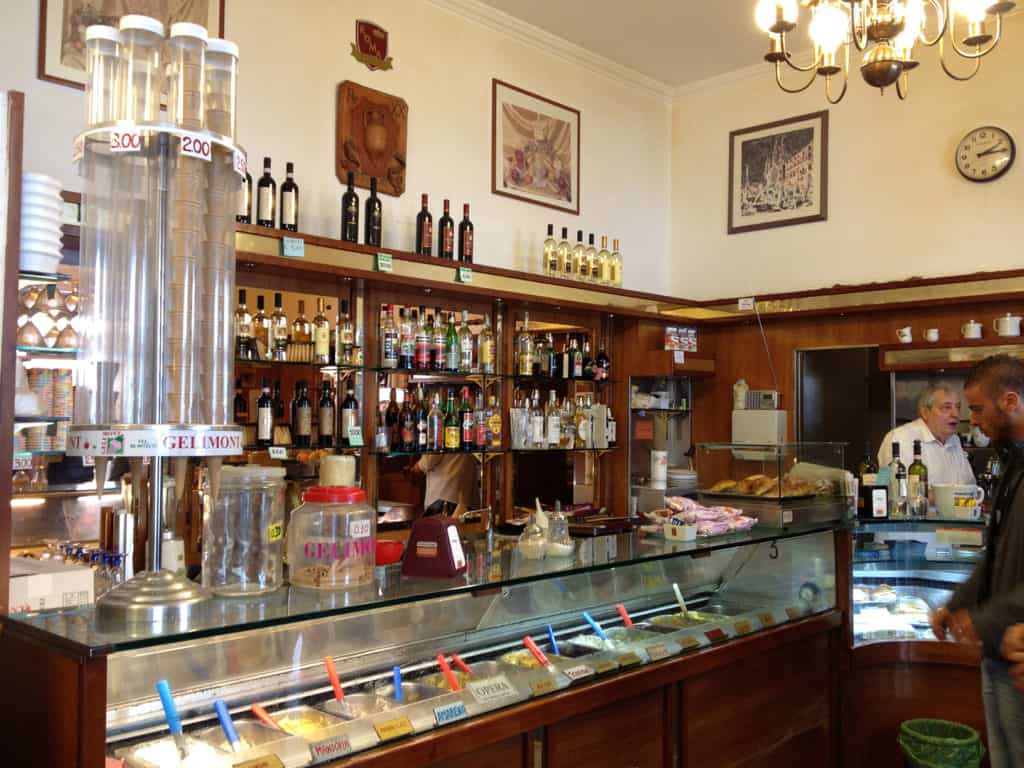 After you have explored the city and taken in some of the sights, it is time to enjoy a classic Italian treat, gelato. Rome is known for its delicious gelato, and you can find it almost everywhere. Whether looking for a traditional Italian flavour like hazelnut or a modern twist like Nutella, Rome has it all. Enjoy a creamy scoop while you spend the afternoon people-watching or exploring the city streets. No Rome itinerary would be complete without gelato.
Take A Walking Tour
If you're looking to delve deeper into the city, a walking tour of Rome is necessary. Walking tours are a great way to learn more about the city, see some of the lesser-known sights, and immerse yourself in the local districts. Whether you choose a self-guided tour or one with a knowledgeable guide, you'll be able to experience Rome in a unique way.
There are many different tours available, from food tours to art tours, so you'll be able to find one that interests you. Plus, since most walking tours are relatively short (usually only a couple of hours long), they're perfect for fitting into your busy schedule.
Shop at the Local Markets
Campo de' Fiori is the perfect place to shop for souvenirs and sample some of Rome's delicious food. This open-air market features everything from flowers and clothing to fresh foods and souvenirs. As Italy's capital, Rome's food and drinks scene are full of delicious options. From traditional Italian dishes to international foods, the local markets in Rome have something for everyone. Be sure to take your time shopping, as the local markets are a great way to chat with locals.
Experience Rome's Nightlife
Rome's nightlife is a must, even for just one night. From bustling piazzas to speakeasy bars and underground clubs, the city has something for everyone. Explore the city's vibrant nightlife and experience a unique side of Rome. Make sure you take the time to wander around and explore the different neighbourhoods, each with its unique character and atmosphere. Whether you're looking for a romantic evening or a wild night out, there's something for everyone in Rome.
The Perfect Amount of Time To Spend For First Timers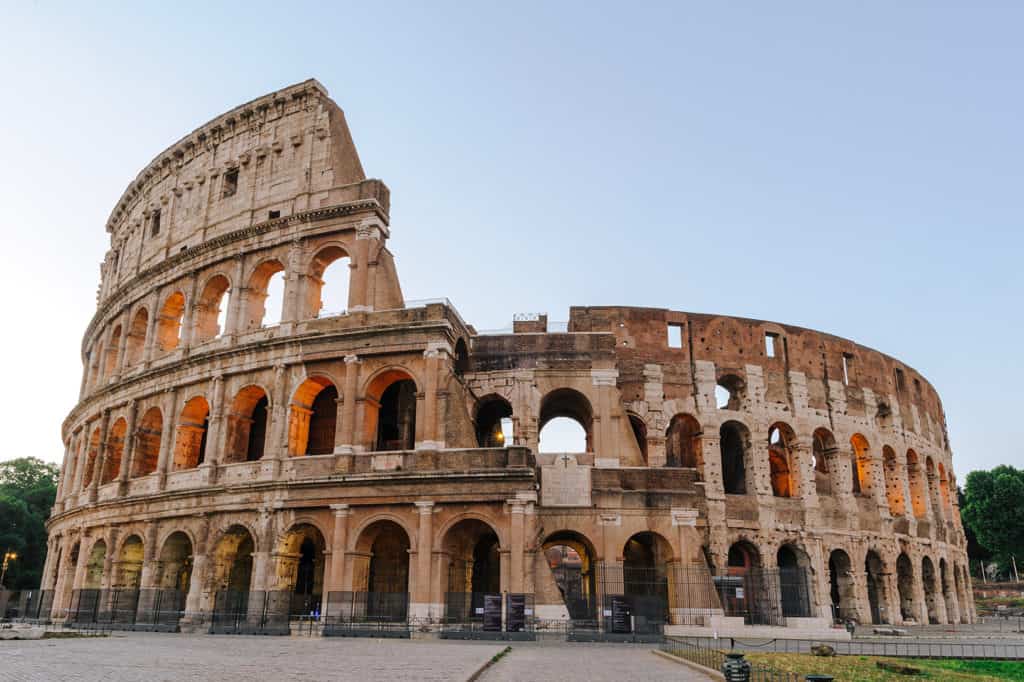 If you're a first timer in Rome, the perfect time to spend in the city is around five to seven days. With at least five days, you'll have enough time to visit the main attractions of Rome and also have time to explore some of the more off-the-beaten-path places, all without leaving the city exhausted. I also recommend taking at least one day trip from Rome to visit a nearby sight. Popular day trips include Ostia Antica, Tivoli, and the Amalfi Coast. With seven days or more in Rome, you'll be able to experience all Rome has to offer while still having plenty of time to wander the streets and explore Rome and see many of its hidden gems.
Seeing Rome in 24 Hours: Is It Possible?
If you're feeling ambitious, you may wonder if it's possible to see enough in just one day in Rome. While it is possible to do this in a self-guided manner, you'll need to have some good planning and a lot of stamina to make the most of your time. Hit up the main stops like the Colosseum, the Roman Forum, Trevi Fountain, Piazza Navona, the Pantheon and the Spanish Steps. If you are still standing by the end of the day, wander the streets at night to take in the atmosphere. And if you enjoyed your time after that, you can always come back to Rome in the future.
Why You Should Spend at Least 3 to 4 Days in Rome
Rome is a great city to explore and discover. It has so much to offer that quickly exploring is hard (and exhausting). If you want to see the main sights, get a taste of the city, and understand the history, then you should plan on spending at least 3 to 4 days in Rome. By doing so, you'll have enough time to plan each day properly and not miss a landmark. You'll also be able to book day trips to Pompeii, Amalfi Coast, Ostia Antica, Tivoli, and more. With 3 or 4 days in Rome, you will have enough time to truly immerse yourself in the city and create some amazing memories.
The Minimum Time Required to See Rome Properly
If you're looking for the absolute minimum time required to see Rome properly, three days in Rome should suffice. However, if you want to get the full experience of what the Eternal City has to offer, then it is recommended that you spend at least four days in Rome.
Day Trips From Rome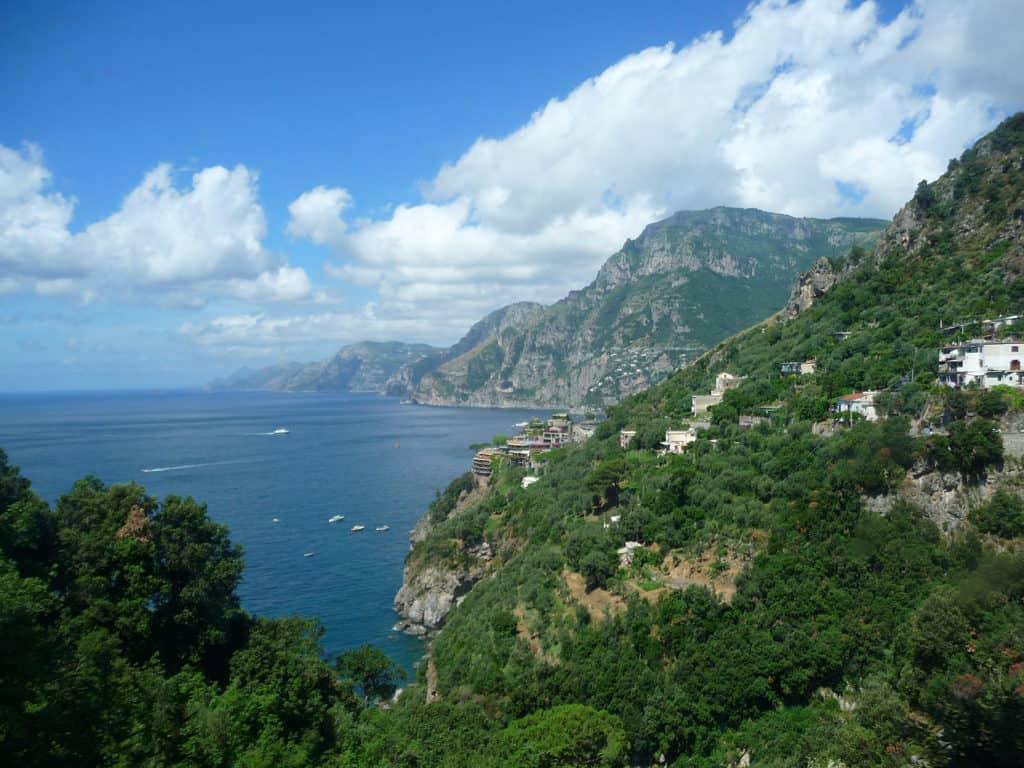 With more time to explore, there are plenty of day trips to take from Rome! Whether you are looking to explore ancient ruins, take a scenic drive, or get out of the city for a few hours, you will find no shortage of options. From Ostia Antica to Tivoli to the Amalfi Coast, there is something for everyone. Make sure to plan for these trips, as some require reservations or transportation. With some preparation, you can enjoy Rome and the surrounding areas.
Day Trip to Ostia Antica
If you're looking to get away from the hustle and bustle of Rome and explore some of the most incredible Roman ruins, then a day trip to Ostia Antica is a must! Located just 30 km west of Rome, Ostia Antica is one of the most well-preserved ancient cities in Italy. Easily accessible by public transport, the archaeological site is open for visitors most of the year. With an expert guide, you can explore incredible ruins and get an insight into the daily life of Ancient Romans. Make sure to bring your camera, as Ostia Antica offers plenty of opportunities for amazing photos!
Day Trip to Tivoli
Tivoli, located about 35 minutes away from Rome by car, is a great place for a day trip. With two UNESCO World Heritage Sites, Villa Adriana and Villa d'Este, and their lush gardens, fountains and beautiful views, you'll have plenty of activities to keep you busy. You can also take the train from Rome's Tiburtina Station for a 45- to 75-minute journey. Either way, you should spend at least one night in Tivoli to experience the town's charm and its attractions.
Day Trip to the Amalfi Coast
If you're looking for a day trip from Rome, look no further than the Amalfi Coast. This stunning stretch of coastline is an absolute must. With its picturesque towns, cliffs, beaches, and coves, it offers an incredible experience that you won't soon forget. To get the most out of your visit, I recommend spending at least two days exploring this part of Italy. Spend your first day visiting the towns of Amalfi and Positano. Enjoy their spectacular views, enjoy the vibrant atmosphere, and savour the fresh seafood.
On your second day, explore the coastline by boat and head out to the Island of Capri if you can. Or drive along winding roads along the coast to appreciate its beauty from a different perspective. No matter how long you plan to stay in Rome, dedicate time to experiencing the wonders of the Amalfi Coast. It is still one of my favourite spots in all of Europe that I've visited. I never wanted to leave. If you are going to take a trip to Italy, you need this on your itinerary.
Need More Reasons To Visit Rome?
Rome is an incredible place to visit. Throughout the city, you can marvel at structures dating back to ancient times, as well as more modern structures. The city encapsulates a unique blend of history and culture that can't be found anywhere else in the world.
Another great reason to visit Rome is the food. Italian cuisine is renowned for its great taste, and Rome is no exception. Whether you're looking for a quick snack or an exquisite gourmet meal, you'll find it in Rome. Plus, you can easily find a restaurant to fit your budget so you can enjoy all the city has to offer.
Finally, Rome is a great place to visit because it offers a different experience from other European countries. Whether you want to explore the city's historical sites, take a stroll through the cobblestone streets, or take in the vibrant atmosphere, there's something for everyone.
So why visit Rome? Because it offers something truly special. A mix of culture, history, architecture, and delicious food that can't be found anywhere else in the world.